Innovation for the Future Smart Farm
Setting the standard of future agriculture technology
Smart Farm
Daedong is setting the standard for future agriculture
technology through the Smart Farm project.

Innovation for the future, Expansion for a better society
Daedong is pursuing the smart farm business through the smart greenhouse of Daedong Seoul Office and the Jeju Daedong Eco Farm City. We strive to create the new standard of future agriculture, based on agricultural technology that we have accumulated for more than 70 years.
The standard of future agriculture technology, Smart Farm
A smart farm refers to a farm that can maintain the optimal growth environment for crops and livestock remotely and automatically by combining advanced ICT technology with the greenhouse and barns. It creates the optimal growth environment based on the crop's growth data and environment data (temperature, humidity, CO2 concentration, amount of light, etc.). A smart farm, such as a smart greenhouse, a smart orchard, or a smart livestock farm, enables higher quality and productivity with less agricultural resources, like labor, energy, and nutrients.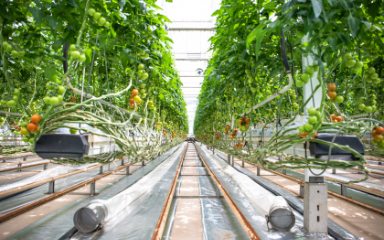 Smart greenhouse
Maintains the optimal growth environment for crops by monitoring the temperature, humidity, CO2, etc. of the greenhouse and remotely/automatically controlling tasks, such as the opening and closing of windows, and supplying nutrients.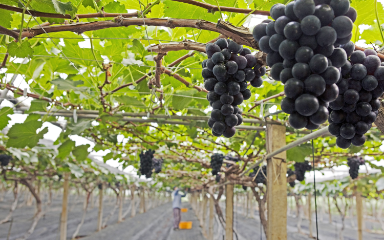 Smart orchard
Monitors the temperature, humidity, weather conditions, etc., and performs tasks such as irrigation and pest management remotely/automatically.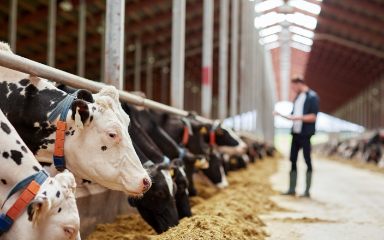 Smart livestock farm
Monitors the farm environment and remotely/automatically controls the time and the amount of feed and water supply.
The configuration and the importance of the smart greenhouse
The smart greenhouse measures and analyzes the soil, nutrients, temperature and humidity, CO2 concentration, etc. through environment measurement sensors to automatically perform tasks, such as ventilation, heating, solar radiation adjustment (opening and closing of light-proof curtains, LED operation), irrigation and nutrient solution adjustments, through the integrated controller equipment, if something is higher or lower than the crop's optimal growth environment. The greenhouse can also be monitored through video equipment like CCTV and web cameras. Because you can control most of the environment in a greenhouse, compared to farming on land, the smart greenhouse can accumulate and utilize all the conditions required to grow crops in the optimal environment. This is why the smart greenhouse is the basic system and the standard for future agriculture.
Daedong Seoul Office Smart Greenhouse
A Smart Farm has been built as a test bed for Daedong Smart Farm that is required in the future agriculture world, to experience the future agriculture technology of Daedong.

The Smart Greenhouse of Seoul Office is a space to experience future agriculture with a smart glass greenhouse, complex environmental controls, and urban agriculture. Research on the optimal crop growth environment and predicting yield is conducted through data farming, and the automation of agriculture is realized by the implementation of the growth video imaging robot.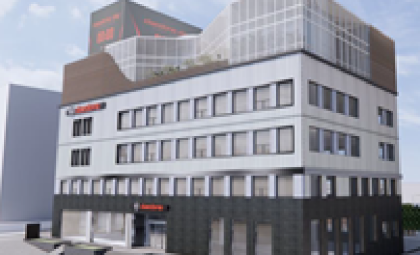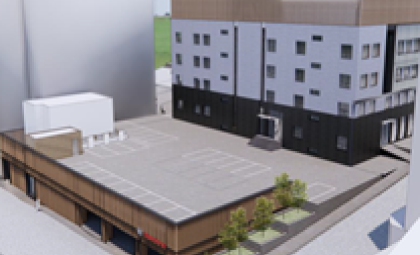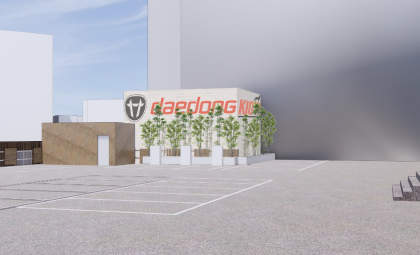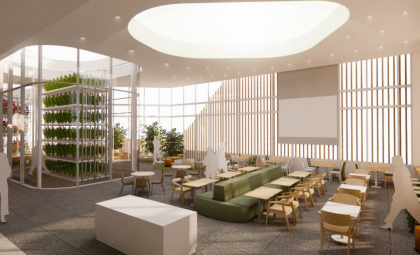 DATA Farming Automation of agriculture

Leaf vegetable cultivation room

Rotational LED
Light source distribution
Future agriculture

Seedling area

Leaf vegetables
Experience space

Cafeteria

Farm to Table
DATA Farming Automation of agriculture

Robot

Acquisition of growth information
This year

Providing an optimal environment for growth

Multi-spectral image sensing
Mapping
Data visualization

This year

Timely fertilizing and pest control where required

Calculating the optimal fertilizer and pest control amounts by location

Machine synchronization including drones and unmanned helicopters

This year

Monitoring harvest quality

Measurement of harvest quality by location

Data visualization

Next year

Providing the optimal soil composition

Analysis of the effect of soil composition on harvest yield and quality Providing the optimal composition for each crop
01
Soil solution
Detailed analysis of the soil's EC data and nutritional data such as N, P, K, and integration with geographical data, mapping

Recommendation of optimal fertilizer and amount, based on fertilizer map
02
Harvest solution
Measurement and detailed analysis of harvested yield and quality, and integration with geographical data, harvest yield mapping
Calculation of optimal harvest time and increase of crop quality based on cultivation environment data (weather, soil, etc)
03
Growth solution
Continuous collection of growth data during the crop's growth cycle, and integration with geographical data as well as fertilizer and pest control data, mapping
Recommendation of the optimal fertilization and pest control time depending on growth condition
Providing the optimal solution for each stage from plowing to harvest, based on inter-relational data of soil-growth-harvest