Innovation for the Future Smart Agricultural Machine
Agricultural machine wears state-of-the-art ICT technology
Smart Machine
Korea's agricultural machine No. 1 Daedong,
emerging as the smart agricultural machine
leader with ICT technology.
Innovatoin for the future, Expansion for a better society
Commercialization of the first straight-line autonomous driving rice transplanter in Korea in 2019.
Released the straight-line autonomous driving tractor and the remote agricultural machine management 'Connect' in 2021.
Daedong is creating a bright future for our agriculture and rural areas that are suffering from a labor shortage, aging, and low economic feasibility by distributing smart agricultural machines based on cutting-edge ICT technology.
Autonomous Vehicle Technology
The core of smart agricultural machinery is autonomous driving technology where the agricultural machine performs precise work according to the situation and the purpose of the work without an operating driver. Based on cutting-edge ICT technology, such as big data and AI, Daedong is developing and commercializing smart agricultural machines like tractors, rice transplanters, and combine harvesters, with the goal of autonomous driving stage 4 'completely unmanned autonomous driving', where the machine can complete the entire task without human operation.
Level 0

Remote control

Check the location of the agricultural machine remotely, turn it on and off, and check the status, work details, etc. of the machine using telematics technology.

Level 1

Automatic steering

Automatically steers for the vehicle to drive along the specified route without the driver having to move the steering wheel.

Level 2

Autonomous driving

Not only steers automatically but also adjusts the speed (automatic gear shifting) as needed according to the situation and drives on its own.

Level 3

Autonomous work performance

Whilst the driving itself is important, the autonomous driving of agricultural machines also requires work to be performed autonomously. The agricultural machine performs work without the operator operating the machine.

Level 4

Unmanned autonomous work performance (AI)

The agricultural machine with artificial intelligence performs work from start to finish without any human operation. It recognizes various environments, such as crops and obstacles, and performs work according to the path set by AI.
Whilst a human operator can only operate one agricultural machine at a time, multiple autonomous driving agricultural machines can perform simultaneously, completing several times the work in the same time.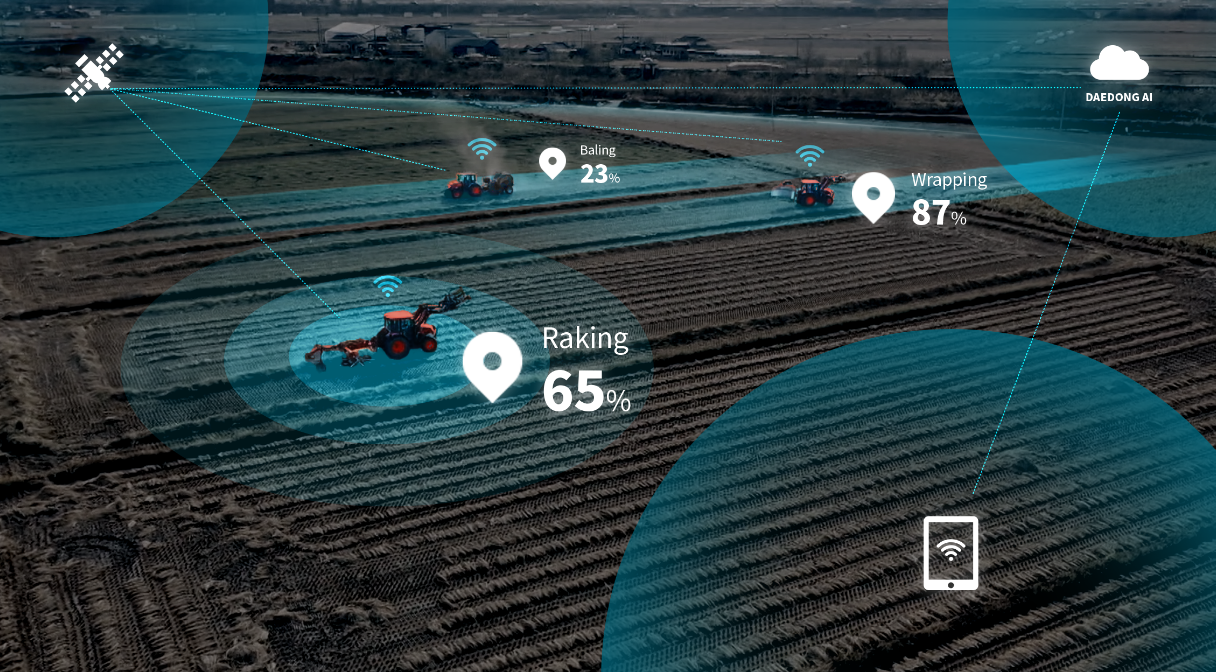 Precision Agriculture Solution
Daedong is creating a precision agriculture solution to complete future smart agriculture, even beyond making work efficient and unmanned with smart agricultural machines. Even if the agricultural machine works on its own, when and what to perform depends on the condition of the weather, soil, and the crop's growth. Daedong's precision agriculture solution collects data during the crop's growth cycle, including the condition of growth, soil, harvest yield, etc., and maps the data. It will lead to optimal productivity by recommending the timing of work and products to use from plowing, sowing, fertilizing, and pest control, to harvesting.
This year

Providing an optimal environment for growth

Multi-spectral image sensing
Mapping
Data visualization

This year

Timely fertilizing and pest control where required

Calculating the optimal fertilizer and pest control amounts by location

Machine synchronization including drones and unmanned helicopters

This year

Monitoring harvest quality

Measurement of harvest quality by location

Data visualization

Next year

Providing the optimal soil composition

Analysis of the effect of soil composition on harvest yield and quality Providing the optimal composition for each crop
01
Soil solution
Detailed analysis of the soil's EC data and nutritional data such as N, P, K, and integration with geographical data, mapping

Recommendation of optimal fertilizer and amount, based on fertilizer map
02
Harvest solution
Measurement and detailed analysis of harvested yield and quality, and integration with geographical data, harvest yield mapping
Calculation of optimal harvest time and increase of crop quality based on cultivation environment data (weather, soil, etc)
03
Growth solution
Continuous collection of growth data during the crop's growth cycle, and integration with geographical data as well as fertilizer and pest control data, mapping
Recommendation of the optimal fertilization and pest control time depending on growth condition
Providing the optimal solution for each stage from plowing to harvest, based on inter-relational data of soil-growth-harvest