Innovation for the Future Smart Agricultural Machine
Agricultural machine wears state-of-the-art ICT technology
Smart Machine
Korea's agricultural machine No. 1 Daedong,
emerging as the smart agricultural machine
leader with ICT technology.
Innovation for the future, Expansion for a better society
2019 Commercialized the first straight-line autonomous driving rice transplanter in Korea.
2021 Released the straight-line autonomous driving tractor and the remote agricultural machine management "Daedong Connect."
Daedong is creating a bright future for our agriculture and rural areas that are suffering from a labor shortage, aging, and low economic feasibility by distributing smart agricultural machines based on cutting-edge ICT technology.
Autonomous Vehicle Technology
The core of smart agricultural machinery is autonomous driving technology where the agricultural machine performs precise work according to the situation and the purpose of the work without an operating driver. Based on cutting-edge ICT technology, such as big data and AI, Daedong is developing and commercializing smart agricultural machines like tractors, rice transplanters, and combine harvesters, with the goal of autonomous driving stage 4 'completely unmanned autonomous driving', where the machine can complete the entire task without human operation.
Level 0

Remote control

Check the location of the agricultural machine remotely, turn it on and off, and check the status, work details, etc. of the machine using telematics technology.

Level 1

Automatic steering

Automatically steers for the vehicle to drive along the specified route without the driver having to move the steering wheel.

Level 2

Autonomous driving

Not only steers automatically but also adjusts the speed (automatic gear shifting) as needed according to the situation and drives on its own.

Level 3

Autonomous work performance

Whilst the driving itself is important, the autonomous driving of agricultural machines also requires work to be performed autonomously. The agricultural machine performs work without the operator operating the machine.

Level 4

Unmanned autonomous work performance (AI)

The agricultural machine with artificial intelligence performs work from start to finish without any human operation. It recognizes various environments, such as crops and obstacles, and performs work according to the path set by AI.
Whilst a human operator can only operate one agricultural machine at a time, multiple autonomous driving agricultural machines can perform simultaneously, completing several times the work in the same time.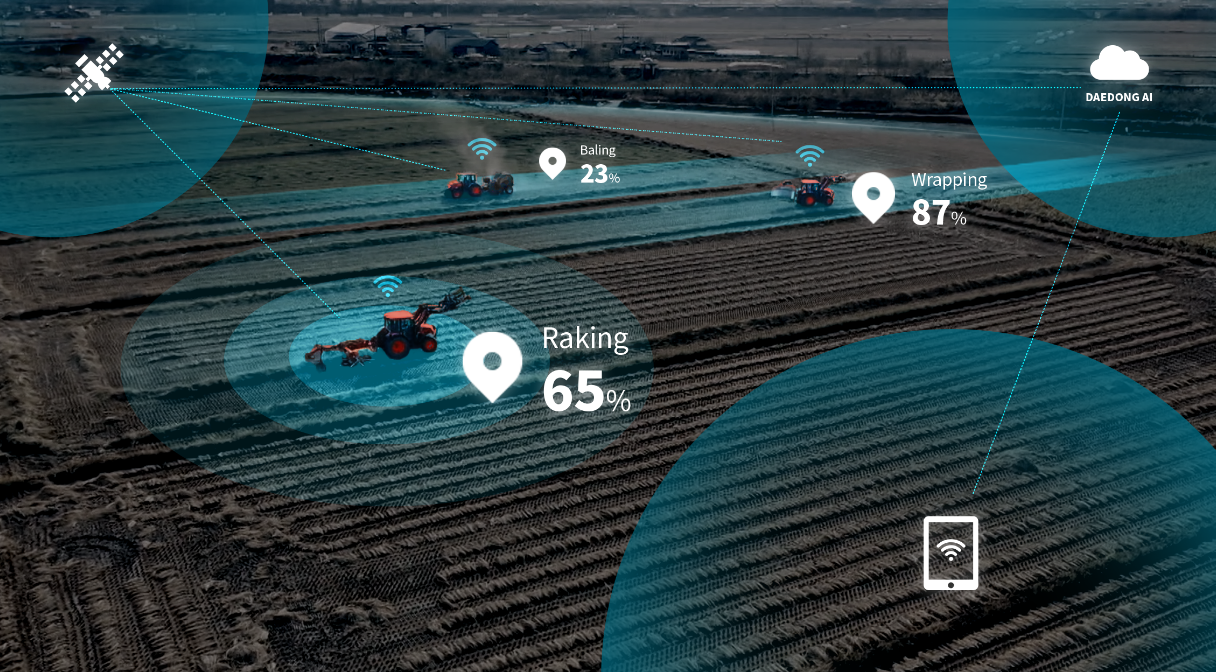 Daedong Connect:
SMART tractor management, now in your hands
Daedong launched "Daedong Connect," a future service that allows users to remote control and manage tractors as well as other vehicles using smartphones. The app uses cutting-edge ICT technologies such as telematics to connect with and control tractors in the field.
Using Daedong Connect, customers can remotely start their vehicle, and easily manage their vehicle by checking the vehicle's location, status, malfunctions, and the condition of various consumables. They can work efficiently and with peace of mind by checking work logs that are automatically recorded, and protect their vehicles from theft by setting a safe zone.
In addition, the app provides a variety of information necessary for farming activities, including customized support policies for each region, cultivation information for each crop of interest, and auction prices of agricultural products at nearby wholesale markets.
Daedong Connect will evolve as a future platform that enables the completely unmanned and autonomous operation of tractors using Daedong's autonomous driving technology.
Repair and maintenance made easy with a display of the location and status of my machine and the weather.

Remotely check for breakdowns and replacement schedule of parts. The information will be sent to the distributors automatically.

Users can create and check various key information about tasks, such as vehicle uptime and daily travel distance, in the form of a log.

Users can set up safe zones to prevent any unexpected use or theft and receive notifications when their equipment leaves the zone.

In the event of a rollover accident, etc., pressing the SOS switch will send a text message to a mobile phone number registered by the user.

06

Remote control

Daedong Connect SE

Users can start up multiple pieces of equipment using their smartphone and check important information in real time.

07

Components commerce

New

Provides detailed information and replacement guides for necessary components and enables users to order products online.

Provides monthly comprehensive information about the vehicle, including engine information, breakdown information, consumable information, and driving information, in a report format.

Provides information on customized government subsidies and various educational support for the user's region and crops of interest.

10

Agricultural product price trends

New

Provides real-time auction price information from wholesale markets near the user's farm.

11

Weekly farming updates

New

Provides farming information related to crops of interest on a weekly basis.

12

Agricultural weather information

New

Enables a quick response to weather changes thanks to weather forecasts, daily average temperature information, and comparative information with last year's weather.