News
Daedong signs MOU with Jeju-do to "Develop a Green Bio Ag-tech Valley"
Daedong signs MOU with Jeju-do to "Develop a Green Bio Ag-tech Valley"

- New MOU invites Daedong to work with Jeju-do in green bio, smart agriculture, and mobility sectors to help Daedong find new business opportunities and stimulate the local economy in Jeju
- Daedong plans to open a future agricultural R&BD center in Jeju, and help build the Jeju Green Bio Ag Tech Valley
- Company to also customize its autonomous agricultural machinery for the environment in Jeju, and to supply precision farming, smart farm, and agricultural robotics solutions

Daedong is joining forces with Jeju Special Self-Governing Province to create a future agricultural industry ecosystem on the Island.

Daedong Group's future ag-tech platform subsidiary Daedong (Co-CEOs Kim Jun-sik and Won Yu-hyun) announced on October 27 that it had signed a "Green Bio[1] Ag-Tech Valley MOU" with the Jeju Special Self-Governing Province (Governor Oh Young-hoon) aimed at revitalizing Daedong's four core future businesses and the company's business on the Island.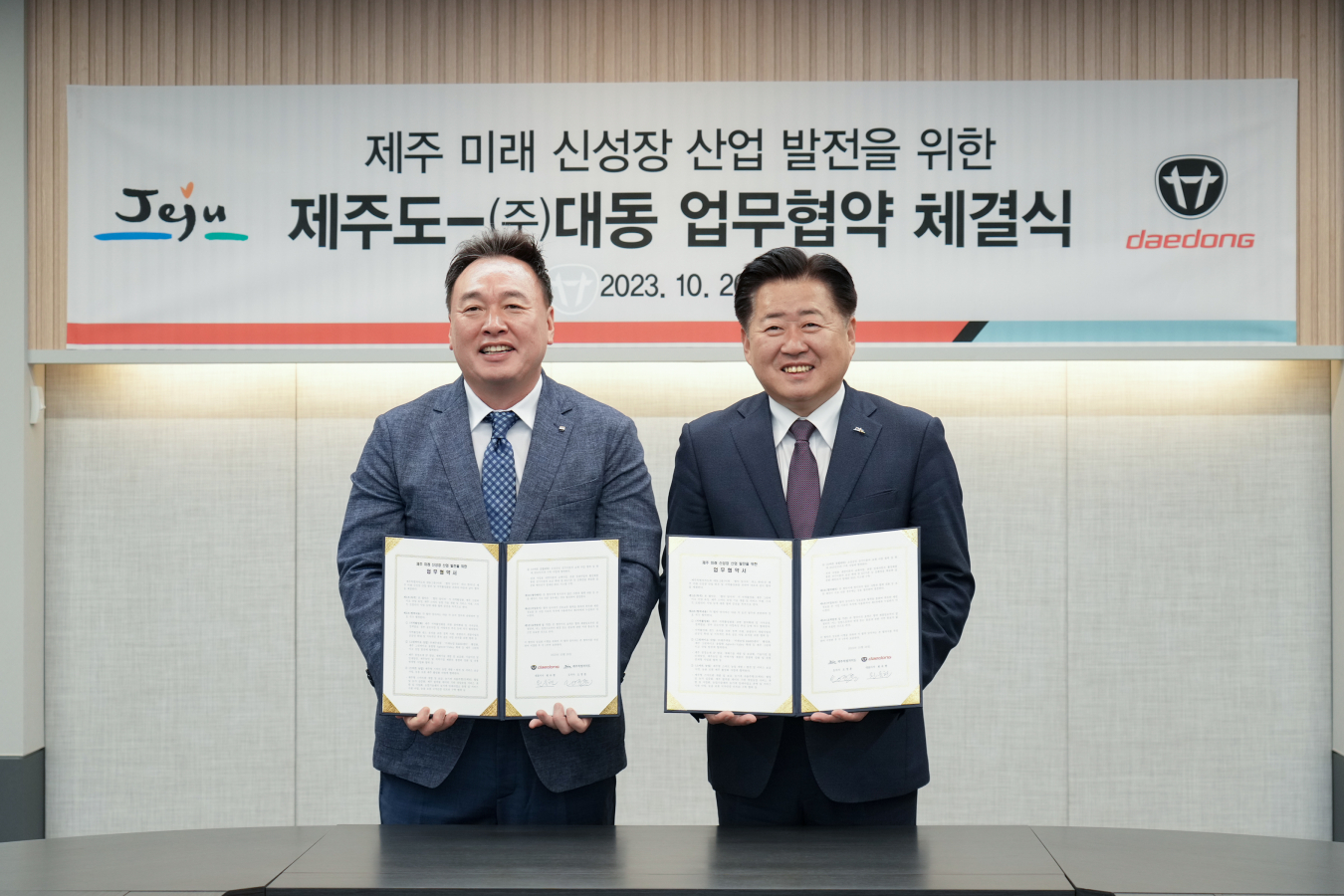 Daedong previously declared its 20-year vision of becoming a "leader in future agriculture," and the company has four core projects to help fulfill its vision: Smart agricultural machinery featuring data-based precision agriculture solutions; Smart farms that provide high value-adding growth manuals for general and functional crops; Smart mobility as new means of movement and transportation using electric powertrains; and Smart robots that provide intelligent solutions covering agricultural and non-agricultural fields. The company is also developing an agricultural community platform, the Daedong Connect app, so that anyone can easily use future agriculture products and services, and it is working with various local governments to create "specialized ag-tech valleys" across the country.

Daedong Group and the Jeju Special Self-Governing Province aim to not only strengthen local agriculture and new industries, but also revitalize the local economy by strengthening the Island's reputation as an eco-friendly, smart region across three core sectors: Green Bio, Smart Agriculture, Smart Mobility. To this end, both parties have agreed to actively cooperate in sharing values, identifying new policies, winning government/public projects, and promoting businesses with the potential to inject new life into the Island's economy.

As per the terms of the new MOU, Daedong will establish a "Future Agriculture R&BD Center" at Jeju Daedong Co., Ltd. (CEO Won Won-hyeon), a subsidiary of Daedong Group, and work with the Provincial Government to establish the "Jeju Green Bio Ag-Tech Valley." The local Ag-Tech Valley will take full advantage of the Island's clean environment and its abundance of natural resources to build a future agricultural industry ecosystem spanning the entire agricultural cycle (preparing, cultivating, sowing, growing, harvesting, and distributing) by connecting local companies in the food, cosmetics, green bio, and ag-tech organizations, government agencies, and local farmers. This is why the company is researching and developing new intellectual property inspired by Jeju-do's clean and pristine environment. In addition, Daedong plans on developing and distributing technology the ag-tech sector can use for various seeds, and the company wants to promote technology transfer and talent training as well. Daedong's ultimate goal is to revitalize Jeju's green bio industry, including strengthening and distributing the competitiveness of products from local farmers and businesses.

The company will also cooperate to build a smart agricultural environment suitable for Jeju. First, it will promote the testing of autonomous agricultural machinery at farms with an agricultural machinery rental business in collaboration with the Jeju Special Self-Governing Province Agricultural Research and Extension Services (Director Ko Sang-hwan). Daedong plans to help the development and distribution of high-precision farming services for field crops, smart farms, and agricultural robots suited to Jeju's agricultural environment. The plan is to increase the overall agricultural productivity across the Island, and at the same time, establish an eco-friendly and smart agricultural ecosystem in Jeju that minimizes the environmental impact of agricultural activities through the efficient use of resources.

Cooperation in another important future industry for Jeju-do - smart mobility - will continue as well. Using the electric scooter and mobility technology available at Daedong Mobility (CEO Won Won-hyun), a Daedong Group subsidiary, the company plans to replace conventional scooters rented out to tourists visiting the Island with eco-friendly electric scooters using battery replacement and charging stations. With this new system in place, Daedong wants to improve Jeju's environment and strengthen the Island's brand as a "smart tourism city."

[1]The green bio industry is a new industry that creates added value in agriculture and overall upstream/downstream industries with biotechnology (BT) applied in combination with agricultural bioresources. These resources include various seeds, veterinary medicine, microorganisms, insects, natural products, and food materials. The Korean government previously announced its "Green Bio Industry Strategy" in March 2023. The size of the domestic green bio industry is expected to double by 2027 from KRW 5.4 trillion in 2020.