News
Daedong Group enters the e-mobility industry
Daedong Group moves beyond smart agricultural machines to enter the smart mobility market.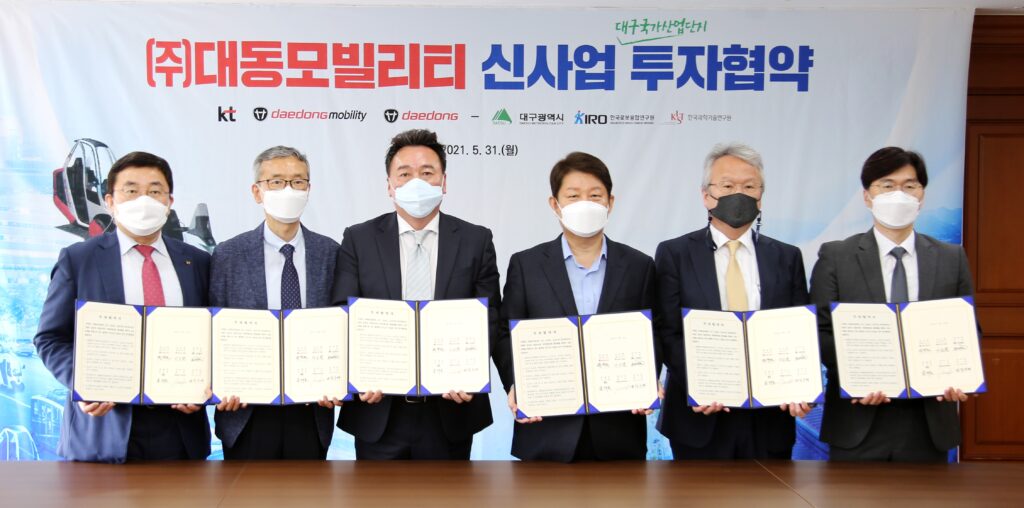 Daedong Group (CEO Kim Joon-Sik) signed the 'Daedong Group e-mobility project investment agreement (MOU)' with Daedong Mobility Co., KT, KIRO (Korea Institute of Robot and Convergence), and KIST (Korea Institute of Science and Technology) at Daegu City Hall on May 31. Daedong Group is currently establishing and developing its smart mobility product lineup for agriculture and non-agricultural AI robot research and will be investing a total of KRW 121.4 billion by October 2040 through Daedong Mobility Co., an affiliate that will oversee the e-mobility project. The initial goal is to construct an e-mobility manufacturing factory of 102,264m2 (30,935 pyeong) in the Daegu National Industrial Complex (Dalseong-gun) by June 2022 and to begin the mass production of agricultural mobility products and non-agricultural mobility, such as e-bike and AI robot mobility, from September 2022 for market release.
For agricultural mobility, Daedong is working in partnership with KIST and KIRO to combine AI and autonomous driving technologies for the e-Utility Vehicle, and also developing an agricultural multipurpose vehicle (Multi-Platform) and a robot lawnmower for the North American and European markets.

For non-agricultural mobility, the e-bike is an independently and exclusively developed product for the delivery and logistics market, using the technology and know-how that pioneered the complete equipment business for 74 years, producing tractors, multipurpose vehicles, zero-turn mowers, and more. AI robot mobility is a joint project with KT (CEO Koo Hyun-Mo), a digital platform company and the largest telecommunications company in Korea. This product has excellent mobility with functions like remote operation and indoor autonomous driving and can also be disassembled for convenient storage and transportation, ideal for use in tourism and exhibition or education facilities.