News
Daedong establishes the Research Center for Mobility with KAIST
- Operating a research center at KAIST to secure group core capabilities through the development of mobility technologies and products, and human resources.
- Professor Kyung-Soo Kim of KAIST appointed as the center director. Developed electric powertrain, autonomous driving, and integrated vehicle control technologies
- Developing and launching products with core technology required in Daedong Group's mobility products by 2025
Daedong is joining hands with KAIST to strengthen its core capabilities as a smart mobility platform group.
Daedong Group's parent company Daedong (Joint CEO Joon-Shik Kim and Yoo-Hyun Won), Korea's No. 1 agricultural machinery company leading future agriculture, announced on the 2nd that it will establish the 'Daedong-KAIST Research Center for Mobility', which will be jointly operated with KAIST for product development and to strengthen smart mobility core technologies such as automation · electrification · intellectualization. The center will also develop into the R&D hub of core capabilities required for Daedong Group's future business by securing and fostering excellent human resources.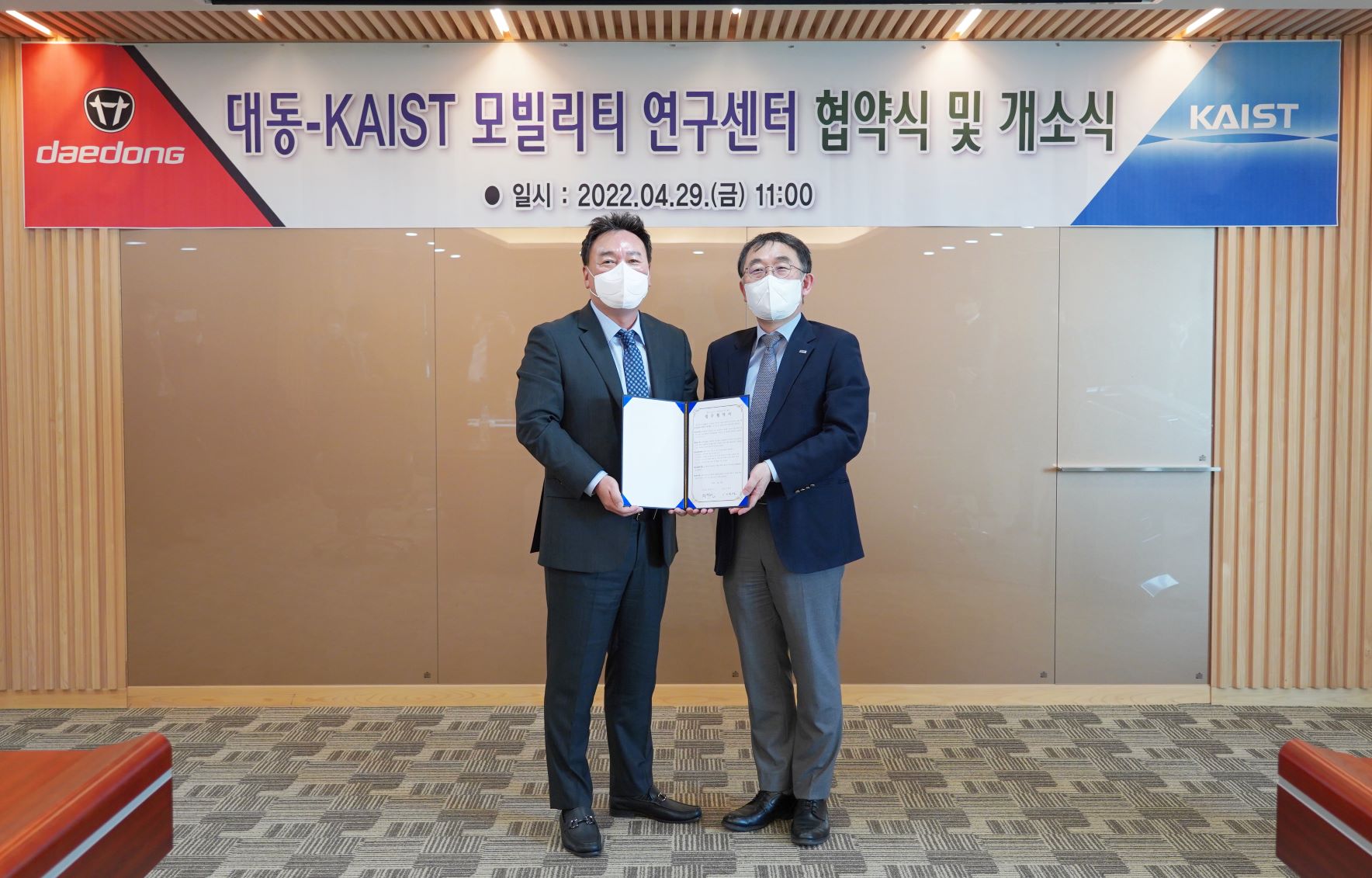 On April 29, the research center's signboard ceremony was held with CEO Yoo-Hyun Won of Daedong and Vice-Chancellor Seung-Seop Lee of KAIST at the KAIST Munji Campus, where the research center will be built. KAIST Professor Kyung-Soo Kim (Department of Mechanical Engineering), a renowned expert in robotics and intelligent mechatronics, will head the center and form a research team consisting of Daedong and KAIST's mobility researchers, focusing on the research and development of smart mobility technologies such as electric powertrain control technology, autonomous driving technology, and integrated vehicle control technology.
In addition, actively expanding partnerships with mobility-related departments such as the Department of Mechanical Engineering at KAIST and the Cho Chun Shik Graduate School of Mobility, will improve research achievements and secure excellent talent. Furthermore, employees of affiliates that operate mobility businesses such as Daedong Mobility and Daedong Gear will be given research opportunities as part of the research center, fostering excellent human resources and maximizing group mobility capabilities.
Through this, Daedong plans not only to secure core technologies and excellent human resources to become a global smart mobility platform company, but only to develop and launch the electric zero-turn mower (passenger riding lawnmower) equipped with AI technology, the electric multipurpose carrier capable of remote control and autonomous driving, and the LSV (Low Speed Vehicle), which will rise as the core mobility of last-mile delivery, in the domestic and foreign markets by 2025.