News
Daedong and NGeneBio to develop customized nutrition service using smart farm crops
- Customized nutrition guide service by enhancing nutrition analysis algorithm based on genomic big data
- Developing customized meal plans and food products using high-functional crops from the smart farm for personal health promotion and management
Daedong is developing a customized nutrition service utilizing highly functional crops cultivated with the use of agricultural big data in partnership with NGeneBio.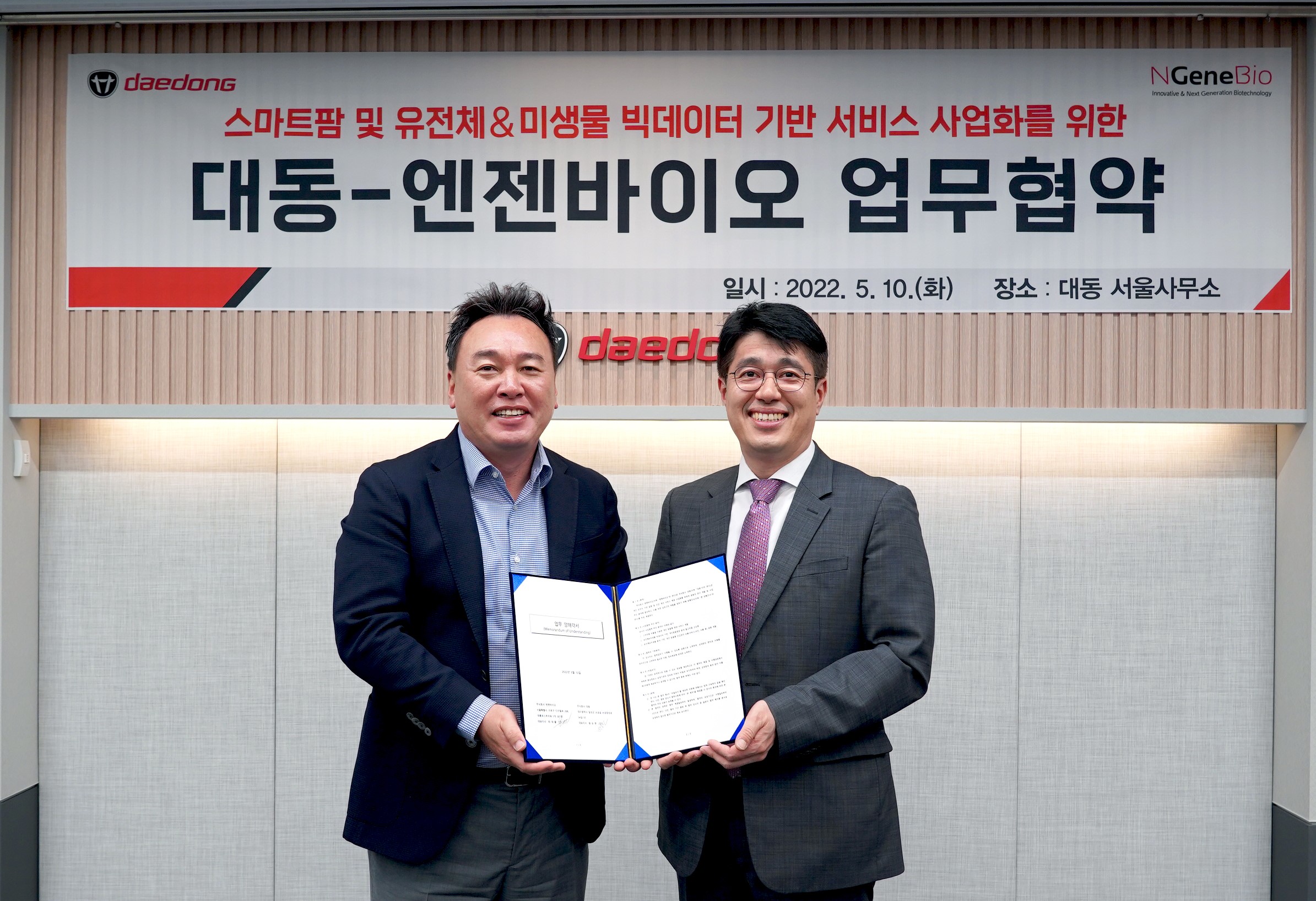 The leading company of future agriculture, Daedong (Joint CEO Jun-Sik Kim and Yu-Hyun Won), announced on the 11th that an MOU was signed with NGeneBio to "develop customized nutrition service using smart farm crops." The MOU was signed at the Daedong Seoul Office on the 10th, attended by major officials such as the Daedong CEO Yu-Hyun Won and the NGeneBio CEO DaeChul Choi.
Daedong is currently cultivating general crops and high-functional crops in the smart farm while building a big data system in agriculture, which will be utilized in developing growth recipes (solutions) for the ▲customized healthcare business and ▲subscription-type future agriculture platform business. Among those, it is for the ▲customized healthcare business that Daedong has signed this MOU with NGeneBio, which has developed the "high-capacity genomic platform technology." Under this MOU, Daedong plans to enhance the nutrition analysis algorithm that uses big data of personal genomics and microorganisms to assess and manage nutrition status and eating habits. Furthermore, Daedong plans to jointly develop customized healthcare products and services (meal plans, food products, etc.) that utilize high-functional crops from the smart farm.
NGeneBio specializes in genomic analysis platforms and has been working on research and development in the field of precision diagnostics to provide the optimal treatment method for patients through personal genome analysis since its establishment in 2015. NGeneBio also provides a DTC(Direct to Consumer) personal genetics testing service that allows individuals to conduct a test of up to 70 items such as ▲nutrients, ▲exercise, ▲skin/hair, ▲eating habits, ▲individual characteristics, ▲healthcare, ▲descent, etc.