News
Daedong & Seoul National University holds conference on the development of smart agriculture
Patent application for functional crop variety and launch of autonomous tractor in 2023
Daedong & Seoul National University holds conference on the development of smart agriculture
- Joint research on smart farming and agricultural machinery projects with Seoul National university based on smart agriculture MOU signed in April this year
- Working to maximize functionality by improving crop cultivation method and crop varieties with 12 varieties selected to be suitable for cultivation in plant factories
- Joint research with Seoul National University on autonomous tractors equipped with route creation and tracking technology corresponding to the three stages of autonomous driving
Daedong Group's parent company Daedong (Joint CEO Joon-Sik Kim and Yu-Hyun Won), Korea's No. 1 agricultural machinery company leading future agriculture, announced on the 2nd that it held a conference on the status of the smart agriculture development project with Seoul National University (President Se-jeong Oh) at Gyeonggi Sangsang Campus (Gwonseon-gu, Suwon-si) on November 28 and assessed the status of the research project in smart farming and smart agricultural machinery sectors. Daedong has signed an MOU for joint research and commercialization in the field of smart agriculture with Seoul National University earlier this year in April.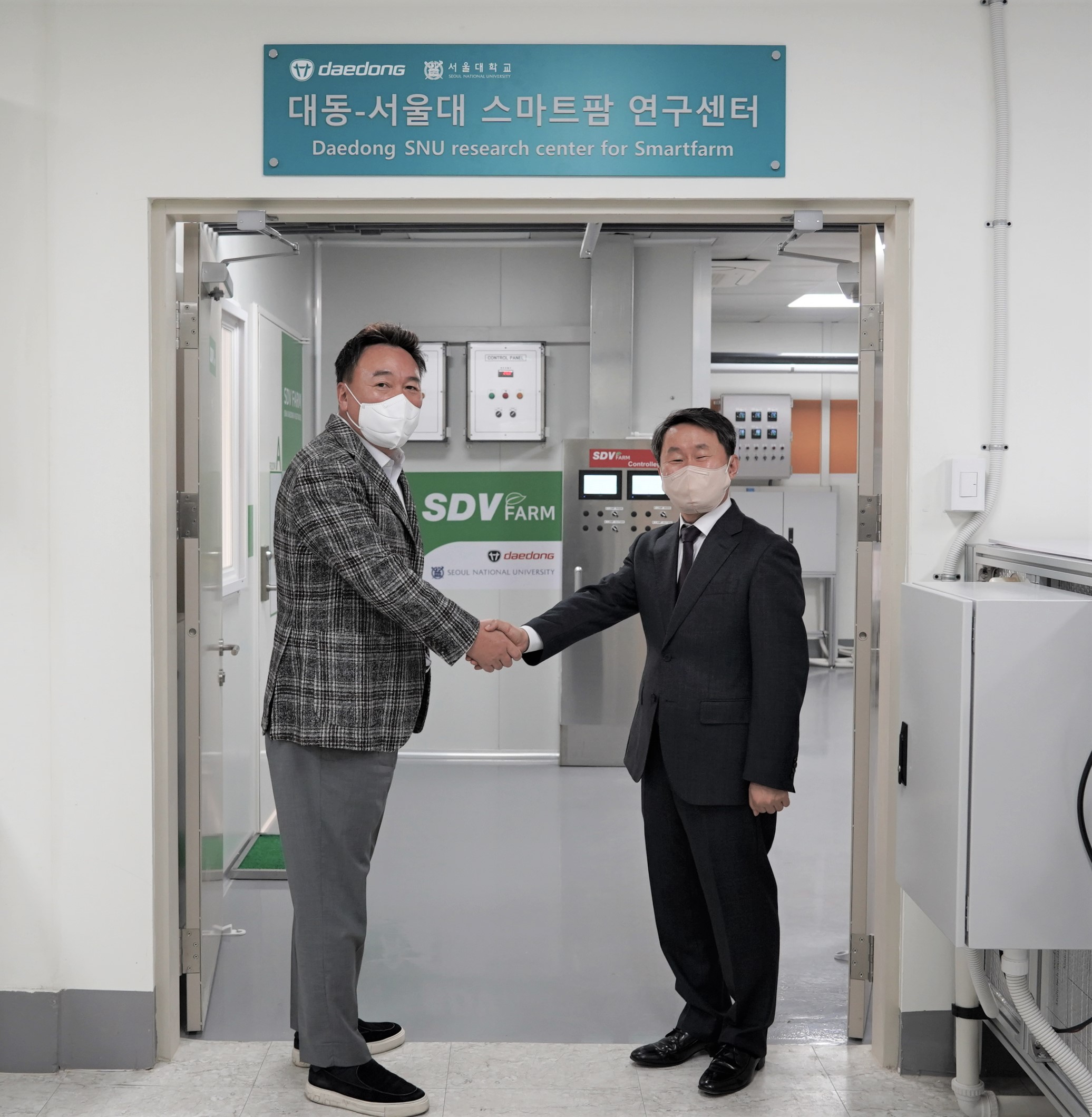 Based on the MOU, Daedong is collaborating with Seoul National University on related technology research with the purpose of promoting hyper-personal health solution projects, and developing autonomous agricultural machinery. The hyper-personal health solution will provide hyper-personalized health care products and services based on the physical condition, eating habits, and genetic analysis results of each individual. To this end, Daedong aims to develop growth recipes (solutions) for highly functional crops that cultivate a large amount of special and general nutrients as well as general crops, and to establish a system for the production and distribution of these. It also plans to create a system for providing optimized health products and services tailored based on the correlation between an individual's genes and diseases, and food nutrition.
The joint research with a team of 5 Seoul National University faculty from the fields of agriculture, food, medicine, and pharmacy, and led by Professor Byeong-chul Kang (Horticultural Biotechnology) of Seoul National University College of Agriculture and Life Sciences, a leading authority in the field, aims to complete 5 research tasks related to the project by 2025. Daedong and Seoul National University are working to maximize functional ingredients by improving crop cultivation method and crop varieties with the 12 functional and general crop varieties selected to be suitable for cultivation in plant factories.
Daedong is collaborating with Professor Hak-jin Kim (Biosystem Engineering) of Seoul National University of Agriculture and Life Sciences for the development of autonomous agricultural machinery. The goal is to mass-produce and distribute agricultural machinery capable of autonomous work that corresponds to the third stage of autonomous driving for agricultural machinery. Currently, field tests of Daedong tractors equipped with autonomous driving algorithms such as work route creation and tracking technology are being conducted on fields and paddies. Daedong aims to launch a stage-three autonomous tractor and combine that are developed in collaboration with Seoul National University in the second half of next year.