News
Daedong Achieves the Highest Performance for Two Consecutive Years
Sales and Operating Profit Grew by 24% and 122% Respectively Compared to the Previous Year
Daedong Achieves the Highest Performance for Two Consecutive Years and Plans to Materialize Future Projects This Year

- Daedong achieved KRW 1.4637 trillion in sales and KRW 84.9 billion in operating profit in 2022. The company's innovation and strategy were effective in its goal to become a platform company.
- Daedong aims to strengthen the qualitative and quantitative growth of its agricultural machinery business this year. This includes improving competency through organizational rebuilding and expanding parts and service sales.
- The company plans to continue investing in future projects such as promoting 4-step field tests for self-driving tractors and spurring the development of agricultural and non-agricultural robots.
Daedong, a leading company in future agriculture and the parent company of Daedong Group, (co-CEOs Joon-Sik Kim and Yu-Hyun Won) announced on February 16 that the company achieved KRW 1.4637 trillion in sales and KRW 84.9 billion in operating profit in 2022 consolidated performance (estimated), recording the highest performance for two consecutive years. This is an increase of about 24% and 122%, respectively, from KRW 1.1792 trillion in sales and KRW 38.2 billion in operating profit in 2021, the year in which the company first joined the "One Trillion Club".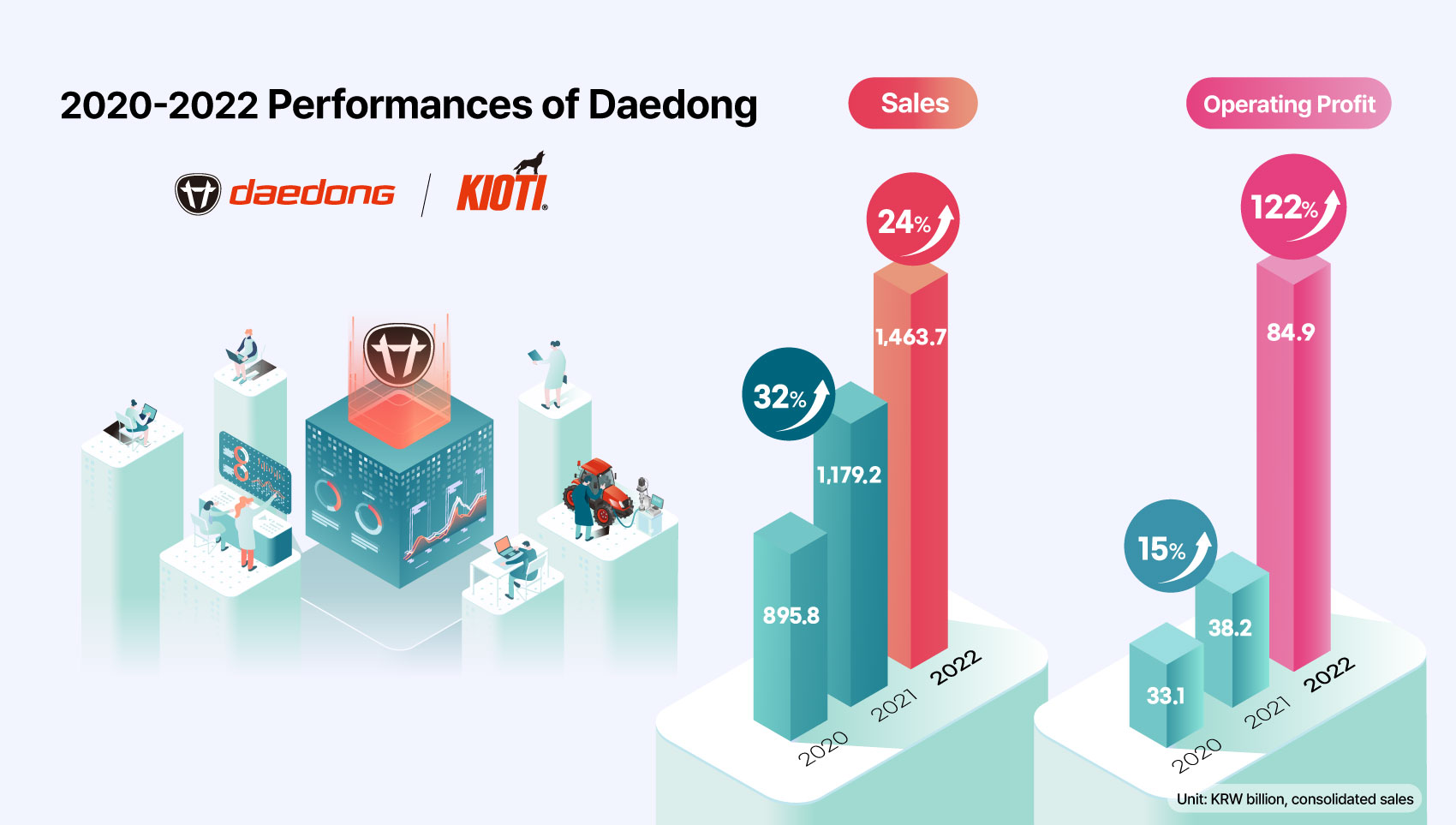 Since 2020, Daedong has been developing and implementing mid- to long-term strategies and roadmaps to transform into the 'Agtech & Mobility Platform Group' based on the three future projects on smart agricultural machinery, farm, and mobility. In last year's uncertain economic situation, the company strongly promoted mid- to long-term strategies such as improving organizational constitution and enhancing management efficiency through DT, improving brand value by strengthening marketability and lineups, and cutting raw material costs through diversification of supply chains and exchange rate indexation system. In addition, the company believes that it achieved the highest performance thanks to increased agricultural machinery exports and exchange rate effects.
This year, Daedong plans to focus on qualitative and quantitative growth of its core project on smart agricultural machinery in order to maximize profit and sales, while maintaining its mid- to long-term strategy in line with the prolonged global economic downturn. To strengthen core competencies in product and technology development and manufacture and quality management, the company will restructure the technology & product development division and the production division into the production & development division, while eliminating non-productive costs in the entire manufacturing process except for safety and environment. In addition, in order to become a service company that provides greater service satisfaction, the company plans to apply the 'Connect' function, a remote-control service for agricultural machinery, to small and medium-sized tractors and combines. Through this, Daedong expects to increase brand satisfaction and maximize parts & service sales by providing proactive and preventive super personalized services before breakdowns while monitoring customer products in real-time. With the HX tractor (100-140 horsepower), one of 'Agtech' which adopts 3-step autonomous driving such as going straight, turning, and automatically operating the work machine, sales of large agricultural machinery are expected to grow at home and abroad.
Daedong will continue to increase its investment in future projects. Last year, the company established Daedong Agtech to lead the group's platform and solution project and built a smart farm in its Seoul office to collect data on crop growth for the development of smart farming solutions. Furthermore, it is accelerating future projects by completing the S-Factory in Guji, Daegu, which will be dedicated to producing smart mobility products.