News
Daedong Agtech and Megazone Cloud Sign an MOU on Establishment of Future Agricultural Platform
Daedong Agtech and Megazone Cloud Sign an MOU on Establishment of Future Agricultural Platform
- Daedong Group aims to jointly develop various technologies to establish a future agricultural platform in order to establish a future agriculture platform and drive agricultural digital transformation.
- The business cooperation includes developing AI agricultural machinery and robot services, developing and integrating IoT platforms, creating data lakes, and utilizing AI/ML technologies.
- Daedong is also preparing a smart farm standard model, precision farming platform, and digital cultivation solutions for functional crops.

On March 13th, Daedong Agtech, an AI software company of Daedong Group led by CEO Gi-jae Kwon, announced that it had signed a strategic business agreement with Megazone Cloud, a leading cloud company led by CEO Juwan Lee, to build a future agricultural platform. The platform will include AI agricultural machinery and robots, as well as smart farm IoT services.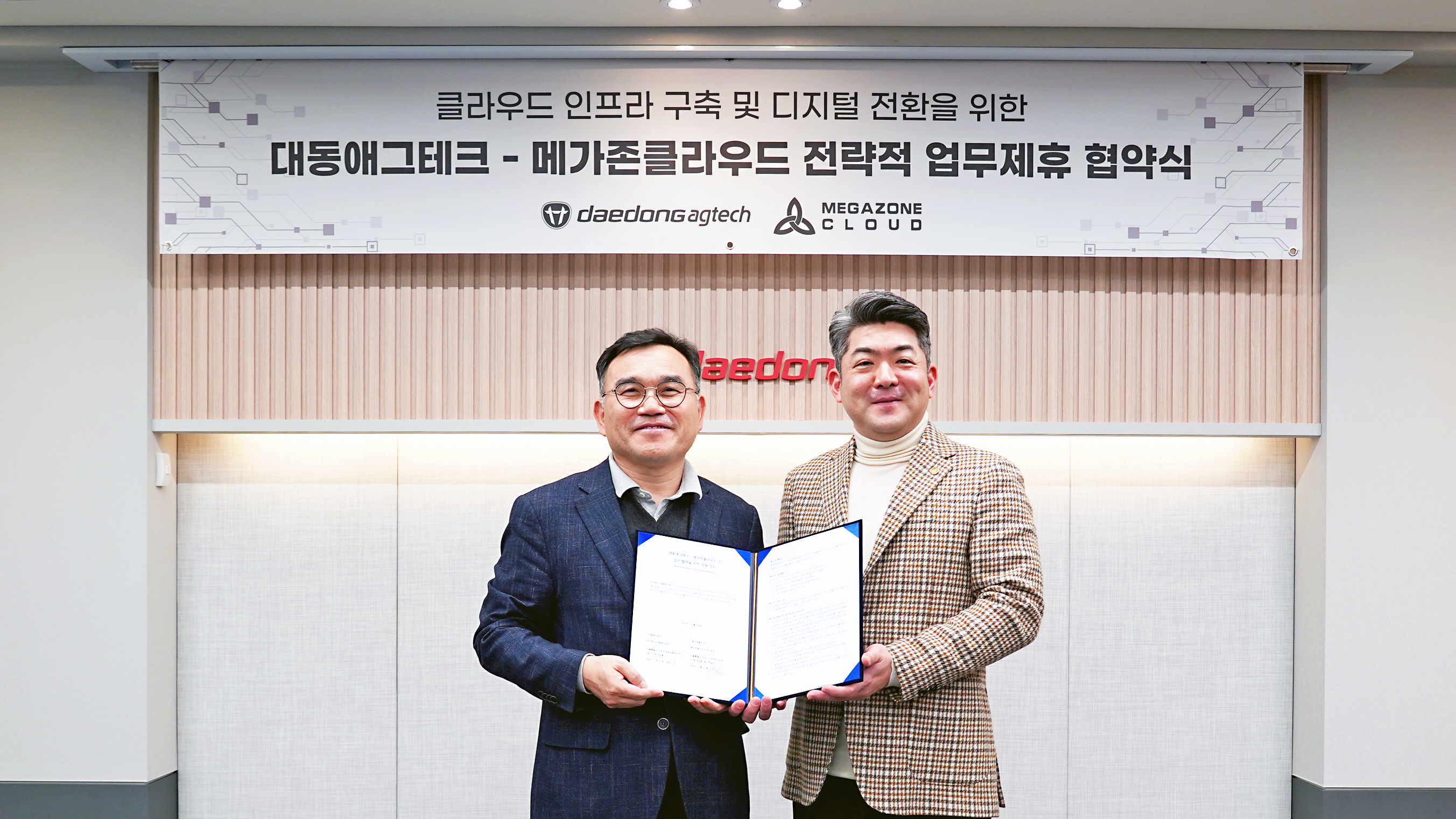 Daedong Agtech is a software company within Daedong Group that focuses on developing and providing essential software and IT technologies for the digital transformation of the group's three future projects: smart agricultural machinery, smart farm, and smart mobility. The strategic agreement with Megazone Cloud aims to enable the overall digital transformation of the agriculture industry in Korea and to seize future business opportunities by introducing IT technologies considering the specific needs and conditions of the domestic agricultural sector.
Megazone Cloud, with successful cases of digital transformation in various industries using AI, cloud, and big data technologies, entered into this agreement with Daedong Group to jointly develop various technologies for the future agricultural platform business and agricultural digital transformation. The two companies plan to collaborate on the development of AI agricultural machinery and robot services, IoT platform building and integration, DataLake, AI/ML, and big data analysis, and establish a mid- to long-term digital transformation roadmap.
Daedong Group is currently working on commercializing the future agricultural platform with the main pillars being Daedong and Daedong Agtech. They are rapidly promoting the establishment of an AI/ML platform necessary for the development and service of AI-based tractors and robots capable of autonomous driving. Daedong Group is also collecting big data on crop growth and environmental information such as temperature, humidity, CO2 concentration, and light intensity. Using Amazon Web Services (AWS) IoT Core service and artificial intelligence (AI) technology, the company is developing a smart farm standard business model to improve the quality and yield of agricultural products. It is also speeding up the development of a precision agriculture platform that collects information on soil nutrition, crop yield and quality measurement, and crop growth data. Moreover, the company is accelerating the development of a precision agriculture platform that provides precise data-based fertilization and pest control timing and quantity. In addition, Daedong is collaborating with Seoul National University and KIST to develop a digital cultivation solution for natural and functional crops and to establish a platform for commercialization.