News
Daedong made the operating profit of 33.7 billion won in the first quarter, a 56% increase year-on-year
Daedong made the operating profit of 33.7 billion won in the first quarter, a 56% increase year-on-year
- Recorded sales of 400.8 billion won, a 12.3% increase year-on-year despite the economic recession, achieving growth of two-digit percent in the first quarters of the last four years
- The increased production efficiency, stabilized global logistics expenses, increased sales prices and effect of the exchange rate, etc. contributed to the increased sales performance in the first quarter.
- In the second quarter, it is planning to make aggressive sales marketing for overseas markets and strengthen the smart factory infrastructure in the country. Preparation for the future, including autonomous tractors
On 16th, Daedong (co-CEOs Joon-Sik Kim and Yu-Hyun Won), an Agtech platform corporation and the parent company of Daedong Group, announced that it has reached the highest first-quarter sales in its history, with sales of 400.8 billion won, up 12.13% year-on-year, and an operating profit of 33.7 billion won, up 56%.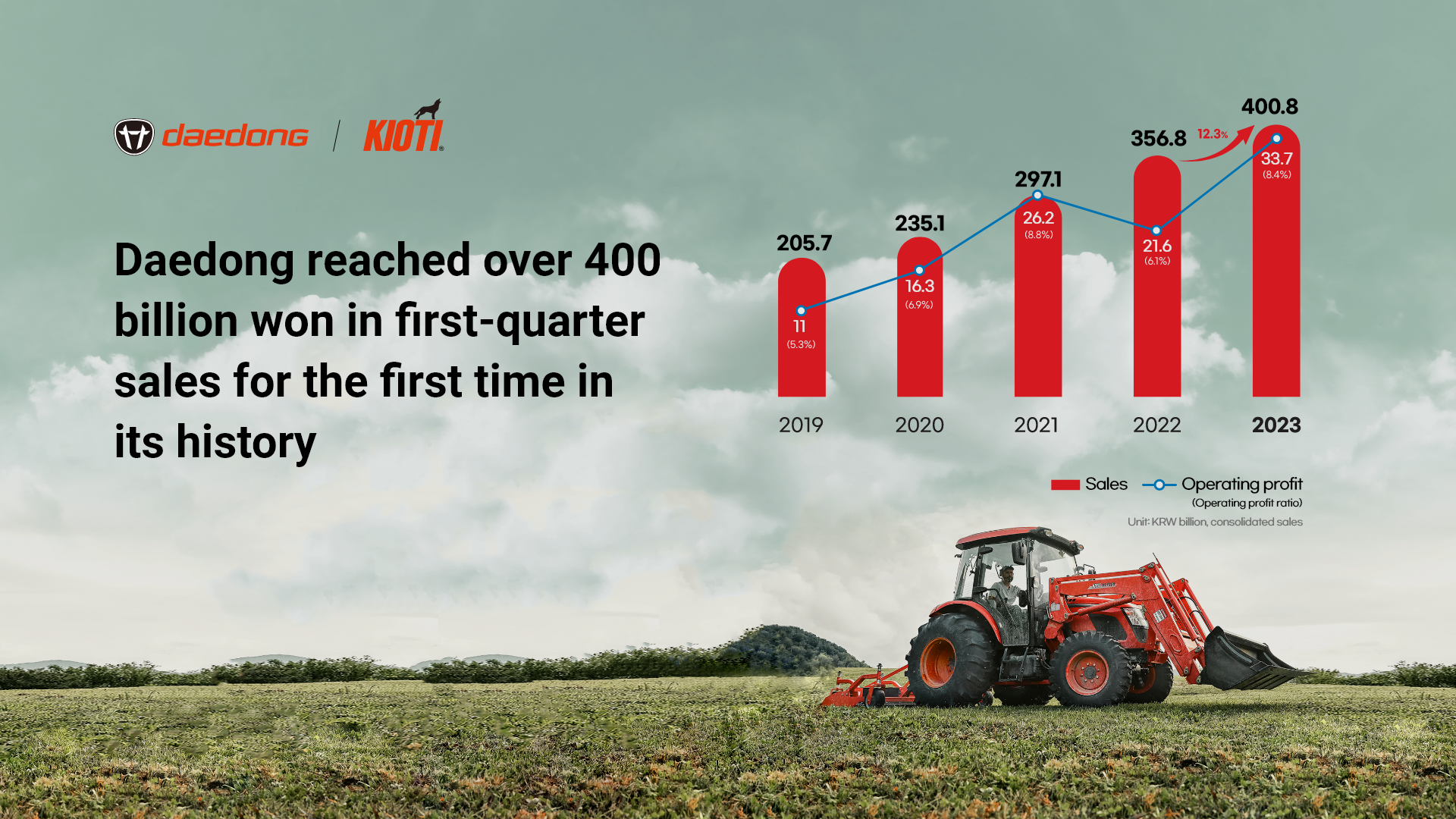 After reaching consolidated sales of 205.7 billion won and operating profit of 11.7 billion won in the first quarter of 2019, Daedong showed stable growth of 2-digit percentage on every first quarter, resulting in 2 times the first quarter sales and 3 times the operating profits in just 5 years. The average growth rate of Daedong's consolidated sales and operating profits in the first quarters from 2019 to 2023 has been 18% and 32%, respectively. With this growth rate, Daedong has reached sales of 400 billion won in this first quarter for the first time in its history.
According to Daedong's internal analysis, its growth in this first quarter is attributed to increased production efficiency and manufacturing quality through switching to smart factories, stabilized global logistics expenses from the strategic diversification of logistics and decrease in marine transport expenses, increased sales price in North America based on commercial value and brand power, the effect of current exchange, etc.
Despite the world-wide economic recession, for continuous quantity-wise growth this year, Daedong will begin aggressive sales marketing in the second quarter, the peak season of major overseas markets, including sales of KIOTI tractor and working machine packages, reorganization of loan sales of compact tractors, reinforcing professional sports marketing, such as baseball and football, and increasing the sales price in Europe and Australia. In relation to this, unlike other companies, Daedong is maximizing sales as it continuously strengthens the GCE[i] market dominance by expanding not only the agricultural machines but also its own-brand tractor working machines and small construction equipment line-ups in the mid- and long-term overseas.
During the COVID-19 pandemic period, Daedong increased the sales of KIOTI tractors, its own agricultural machine export brand, in North America by 70%, from 11,900 in 2019 to 20,000 in 2022, by reinforcing the product quality and service power. Upon this growth, its brand was recognized as high price-performance products among local consumers. And despite the North American tractor market's recession, its market dominance in the first quarter increased from 7% to upper range of 8%. Daedong also launched the Skid Steer Loader, a kind of small construction equipment, and the Compact Track Loader last year and started providing them to overseas markets, including the North American market this year.
It will also expand the application of the smart factory system, which was only applied to some production lines last year, to all lines of agricultural machine production and diesel engine production for its quality-wise growth. In the mid- and long-term, it plans to focus on strategic supply chain management (SCM) that can manufacture a maximum of 100 thousand units flexibly, in accordance with the circumstances of the global agricultural machine market.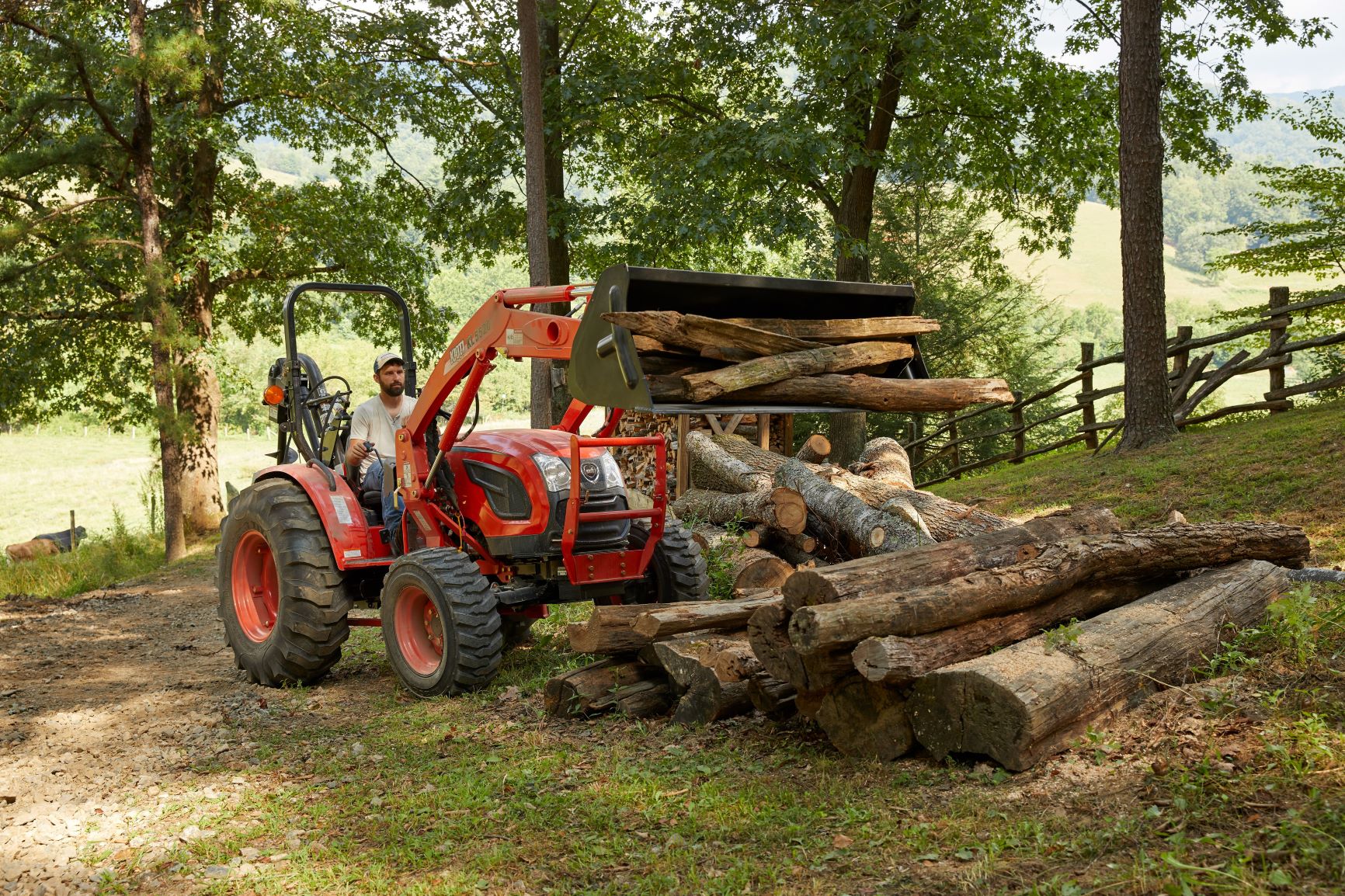 [i] What is Ground Care Equipment (GCE)? It means the equipment used in the fields of agriculture, farm facility management, and domestic garden management, for weeding, removing snow, hay transfer, and removing wood. It includes full-fledged equipment such as small tractors, lawn mowers, utility carriers, and working machines for tractors, such as grapples and backhoes.