News
Daedong poised to take a "quantum leap" in Europe targeting the mid-to-large tractor market
Daedong hosts the KIOTI Roadshow Europe 2023 focused on "Shifting Gears"

Daedong poised to take a "quantum leap" in Europe targeting the mid-to-large tractor market

- Convention gets underway in Delft, Netherlands, on October 30-31. Daedong employees and representatives from 50 distributors across 20 European countries attend the event
- Daedong earned KRW 500 billion in sales from its European affiliates over the past 28 years with its mid-to-large tractors, robot mowers, and other small construction equipment
- The company wants to increase its sales of mid-to-large tractors in Europe by 120% in 2024 compared to 2023, and push the share of mid-to-large tractors sales above 50%

Daedong has embarked on a new mission to turn Europe into its second hub market.

On November 5, Daedong Group announced that its ag-tech platform subsidiary Daedong (Co-CEOs Kim Jun-sik and Won Yu-hyun) hosted the "KIOTI Roadshow Europe 2023" (theme: Shifting Gears) on October 30 and 31 (local time) in Delft, the Netherlands. More than 50 representatives from distributors across 20 European countries attended the event to discuss Daedong's direction in Europe going forward, and means to strengthen the brand's market penetration from small and medium-sized (20 to 60 horsepower) tractors to medium and large-sized tractors (61 horsepower and up). Daedong also discussed how it plans to promote some new businesses, including robot mowers and other small construction equipment. At the event, Daedong shared its vision to take a "quantum jump" in European subsidiary sales from KRW 73 billion (expected) in 2023 to KRW 140 billion in 2024 and KRW 500 billion in 2028.

After establishing a European subsidiary in Rotterdam, the Netherlands in 2010, Daedong now has national distributors in 24 European countries, excluding Germany, where it sells products directly to end customers. In Europe, most small and medium-sized tractors are used for landscaping and road maintenance in urban areas, and the company has continued to grow its European business with competitive small and medium-sized tractors. Daedong earned an average market share of 7.2% last year in the small and medium-sized tractor sector in eight major national markets (Germany, France, England, Portugal, etc.) in Europe.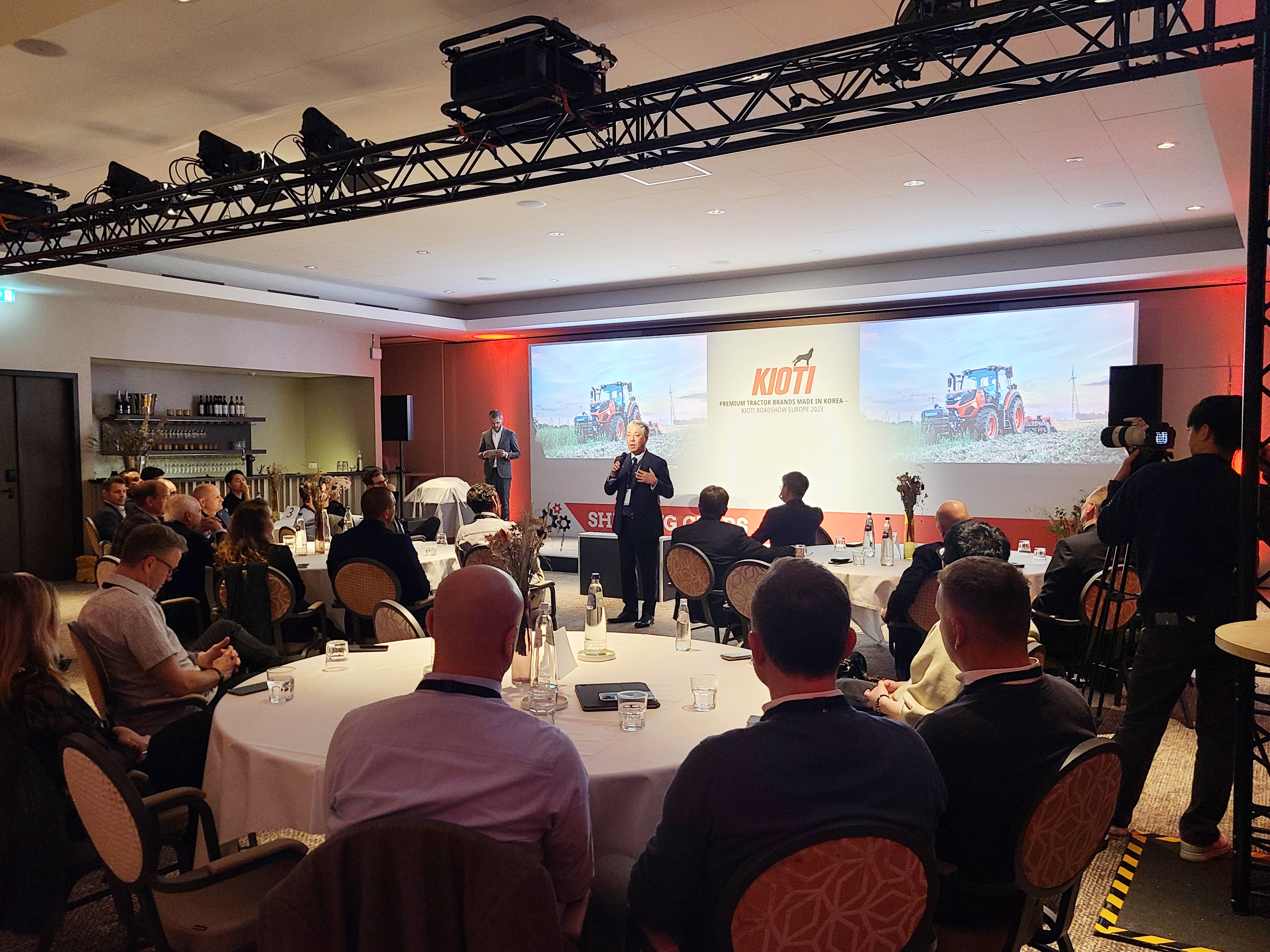 In the European tractor market, which sells roughly 180,000 units per year, products with 60 horsepower or more account for about 70% (135,000 units) of all sales, and are mainly used for agricultural purposes. Daedong upgraded its technology and product lineup by introducing the HX series of tractors in the 100~140 horsepower range to not only reinforce its position in the domestic large tractor market, but also expand its business portfolio worldwide. Moreover, local field testing for HX series tractors was done in Europe last year, with trial sales beginning early this year. In the second half of this year, Daedong created a "European Business Revitalization TFT," consisting of executives and employees from Daedong's head office and European national distributors. The TFT did market research in more than 20 European countries over a 60-day period, and established business growth strategies for each country and region.

First, in the mid- to large-sized tractor market, Daedong's product lineup will get some much-needed reinforcements with the new, fully redesigned RX tractor (60-80 horsepower) and additional premium models from the HX series i.e. the new HX1301 (132 horsepower) and HX1401 (142 horsepower), sometime during the first quarter of next year. In related news, Daedong's most powerful model sold in Europe so far was in the 120 horsepower range. But for the first time ever, the company has decided to launch tractors in the 130 to 140 horsepower range. Daedong also wants to strengthen its support for leading distributors to create benchmarks and examples other distributors can strive for in the mid- to large-sized tractor market by 2024. Furthermore, the company plans to conduct a mid- to large-sized tractor demo program for test drives to improve end-user brand experience and product reliability, and offer more active support for parts/services, etc. To strengthen brand loyalty, starting next year, Daedong will invite European national distributors and dealers who have performed exceptionally well to Korea, and take them on a tour where they can learn, first-hand, about Daedong's production and research systems. By doing so, Daedong's European subsidiary aims to grow its sales of medium and large tractors in the European market by 120% in 2024 compared to 2023. In the mid- to long-term, the company is hoping to increase the share of mid-to-large tractors sales via its European subsidiaries from 20% to 50% by 2028.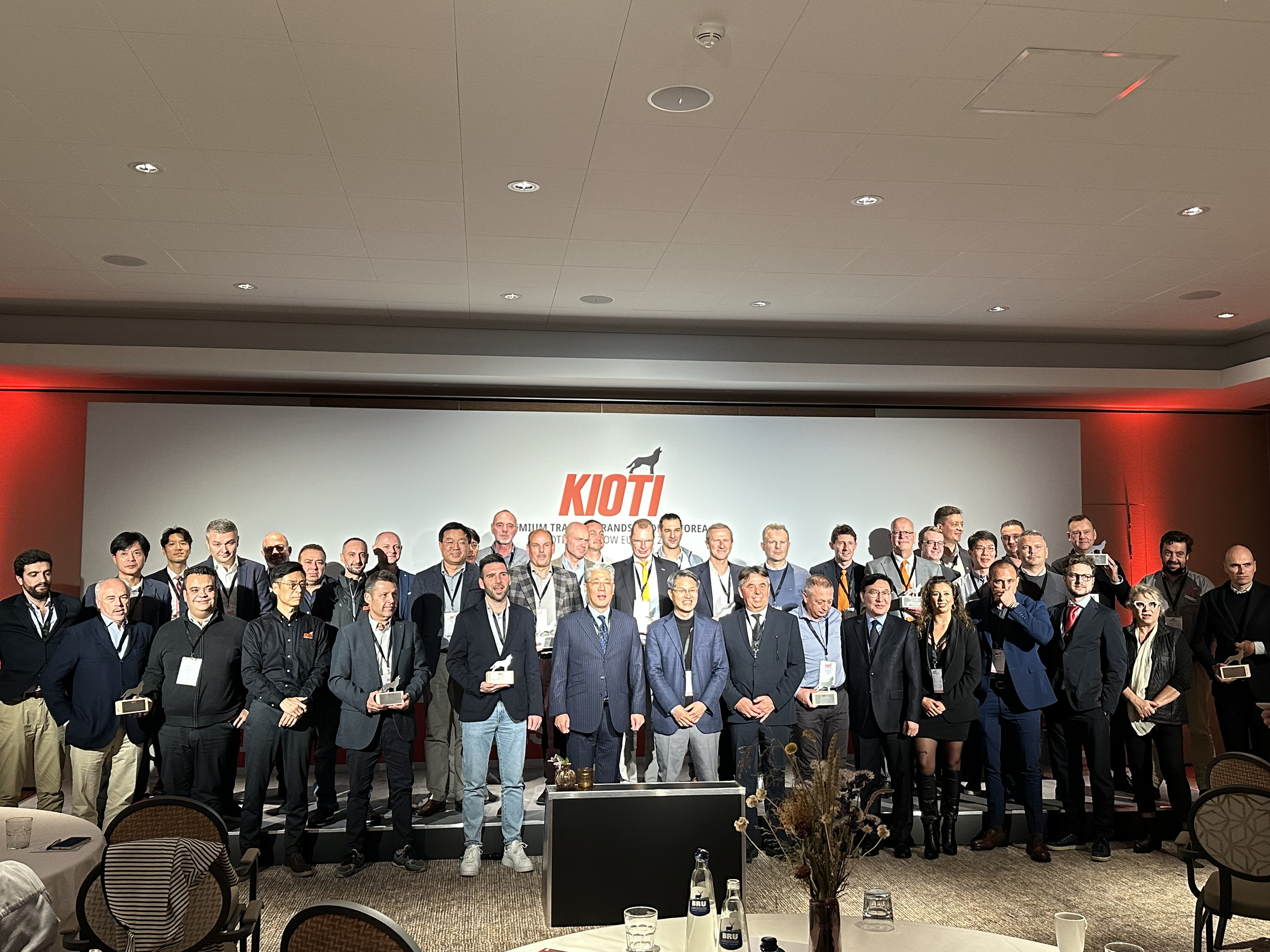 Meanwhile, as its new business, Daedong Group plans to make a push for its "Robot Mower," a gardening robot developed using advanced robot and mobility technology, business in the European market next year. Daedong's robot mowers are equipped with an AI autonomous driving function, and they move freely to weed out unwanted plants in whichever area the user designates. In Europe, where houses are smaller than in North America, robot mowers offer an easier and more convenient way of gardening and maintenance. According to Arizton, an American market research company, the size of the European robot mower market grew by approximately 25% from 1.64 million units in 2018 to 2.05 million units in 2022, and is expected to grow even further to 3.62 million units in 2027.

Daedong also appears ready to shore up its small construction equipment, skid loaders, track loaders, and diesel engine businesses in Europe as well. The company plans to gradually expand its sales of small construction equipment in Europe starting next year. As for its engine business, Daedong has already established its own product lineup of 1L~3.8L engines, which is on par with other global agricultural machinery and diesel engine manufacturers in Europe. These engine products, installed on tractors, are being thoroughly tested by customers both in Korea and abroad. Daedong engines, which not only satisfy Stage-5 regulations, but also meet Europe's strict ESG and environmental regulations by enabling the use of HVO fuel, are expected to make other products powered by Daedong engines much more popular in Europe going forward.

Meanwhile, Daedong became the first in the business to open a local sales office in Hamburg, Germany, back in 2019. This sales office continues to control local dealers to keep its direct sales model in Germany. This direct sales model has helped Daedong increase its tractor sales in Germany by 20% compared to the first half of last year, with more than 70 dealers now selling Daedong products, compared to only about 20 in 2019.