News
Daedong tractors and combines 1st in KS-QEI
Daedong tractors and combines 1st in KS-QEI

- Awarded by the Korean Standards Association since 2004 based on excellence in quality and consumer/expert satisfaction
- Daedong tractors have been ranked 1st since 2021, earning excellent results for practical and affective quality. Combines were also ranked 1st this year
- Company to strengthen the competitiveness of its smart agricultural machinery with Level-3 autonomous driving tractors and combines coming in the fourth quarter of this year

Daedong Group's future ag-tech platform subsidiary Daedong (Co-CEOs Kim Jun-sik and Won Yu-hyun) announced on October 20 that it was selected as the no. 1 company in the agricultural machinery tractor and combine category of the "2023 Korea Quality Excellence Index (KS-QEI)" hosted by the Korean Standards Association (KSA).

The KS-QEI is a quality evaluation model jointly developed by the Korean Standards Association and the Korean Society for Quality Management in 2004, and is an indicator that measures excellence in quality and satisfaction among consumers and experts with direct experience using a product. This year, "Practical Quality," which evaluates performance, reliability, durability, usability, safety, and accessibility, and "Affective Quality," which evaluates image, recognition, and novelty, was gauged by consumers and experts with experience in using products from 377 companies across a total of 114 categories. Here, Daedong received the highest score in the tractor category and was selected as the top company for three years running. This year, Daedong combines also came in at first place.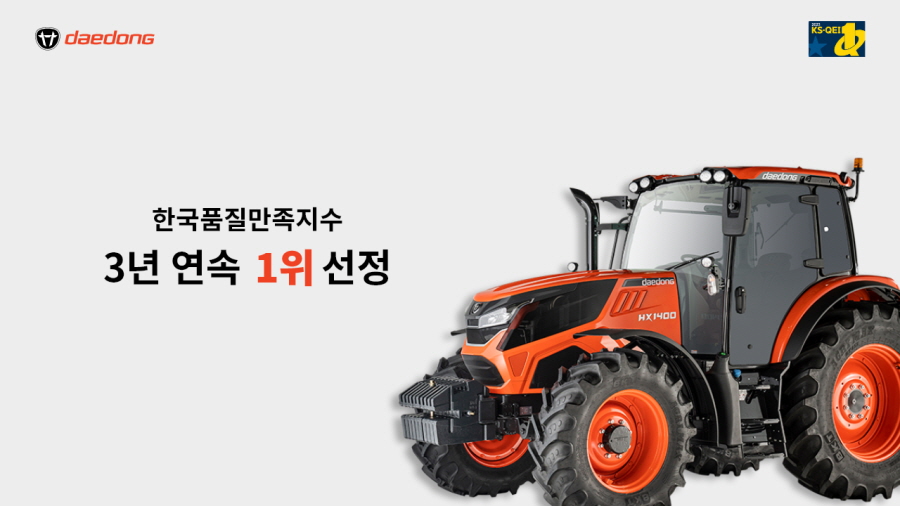 In order to evolve from an agricultural machinery company to a "leader in future agriculture," Daedong has been promoting "smart agricultural machinery," including tractors, combines, and rice transplanters, to make its products more competitive and attractive since 2020. In 2021, the company expanded its product lineup, launching the HX series autonomous driving tractors in the 130~140 horsepower range for the first time in Korea. This was to keep up with the growing demand for larger and more high-tech agricultural machinery in the market. Daedong further improved user satisfaction with a unique customer service called "Daedong Connect," which allows for everything from checking the operating status of agricultural machinery to remote inspections. With continued investment, in the third quarter of this year, the company launched the autonomous HX tractor and DH6135 combine featuring Level-3 autonomous driving technology. Both models can create and follow their own routes and detect hazards. Users can control various settings and manage data from the two machines. Going another step further, Daedong began collecting data on agricultural and farmland environments this year with the goal of launching a Level-4 autonomous driving tractor by 2026.