News
Daedong launches Korea's first autonomous combine, the DH6135-A
"Daedong, rushing in a new era of autonomous driving agricultural machinery"
Daedong launches Korea's first autonomous combine, the DH6135-A

- Level-3 autonomous driving technology capable of movements in straight lines, turning, and controlling work operations. New model completes a full lineup of autonomous agricultural machinery for Daedong
- DH6135-A works autonomously non-stop, and performs high-precision tasks with a maximum error of 7cm when following a work route
- Data from yield monitoring, grain yield for each farmland section can further enable more precise agricultural processes

Daedong Group's future ag-tech platform company Daedong (Co-CEOs Kim Jun-sik and Won Yu-hyun) announced that it had launched Korea's first Hi-Tech 6-lane combine, DH6135-A, equipped with autonomous operation and yield monitoring features on October 19. With its latest model, the company now boasts a full lineup of autonomous agricultural machinery, including rice transplanters, tractors, and combines. Meanwhile, Daedong previously launched the industry's first Level-1 autonomous driving rice transplanter and tractor in 2019 and 2021, respectively, and launched its Level-3 HX tractor this month.

The autonomous driving technology for agricultural machinery in Korea is divided into Level-O (remote control), Level-1 (automatic steering), Level-2 (autonomous driving), Level-3 (autonomous operations), and Level-4 (completely unmanned operations). DH6135-A is a Level-3 model that operates autonomously in line with its surrounding environment without any input from the operator. By duplicating Real-Time Kinematic (RTK) data, which enables ultra-precision autonomous driving, the DH6135-A is capable of 24-hour uninterrupted autonomous driving without suffering any instabilities in terms of receiving its locational data. Moreover, by providing ultra-precise locational information to the combine, the machine can work more precisely with a positioning accuracy of less than 2cm when stationary and a maximum error of 7cm when following a work route.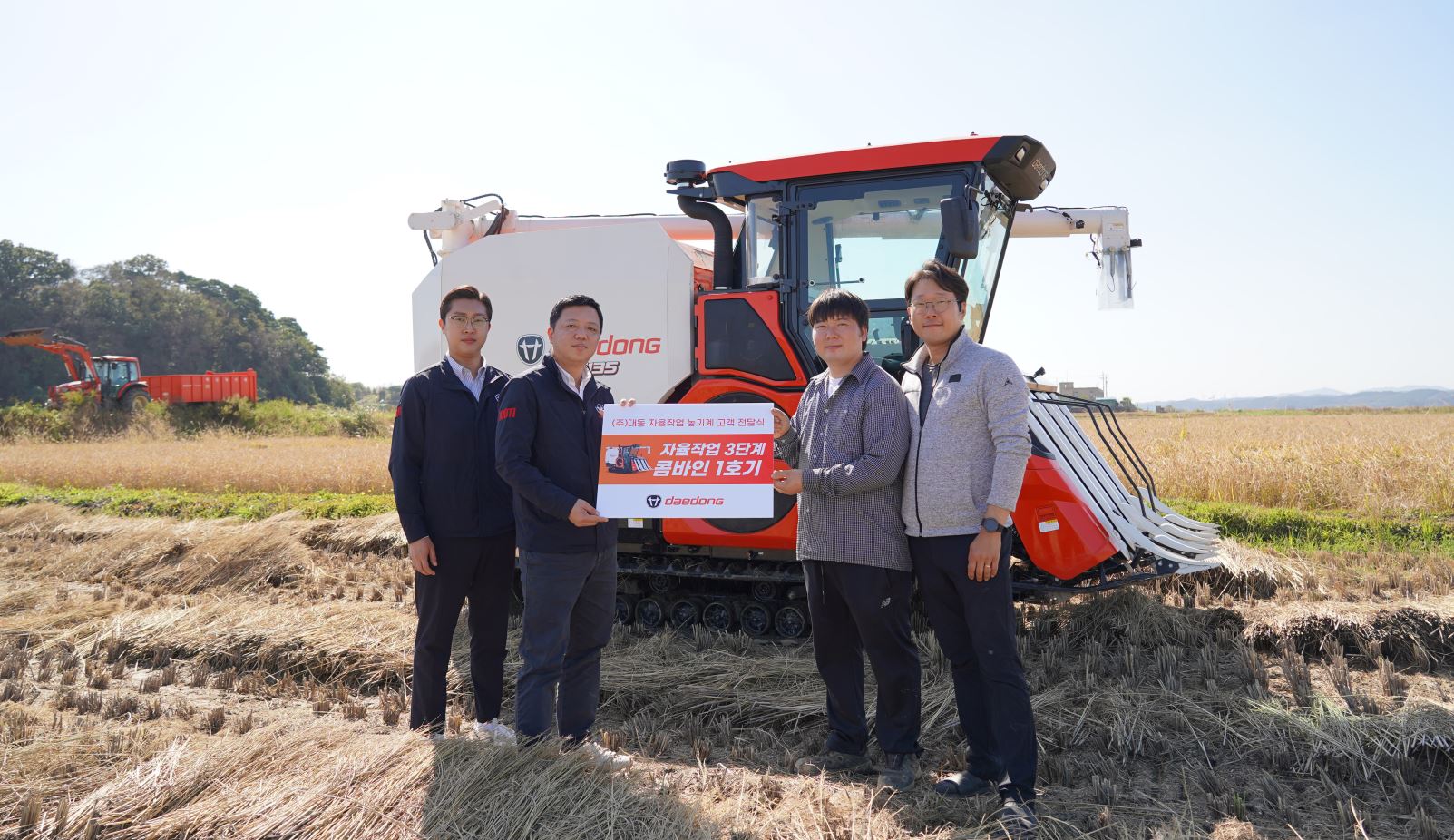 DH6135-A's autonomous functions allow the operator to manually create and estimate a harvest route. All the operator needs to do is manually make three turns along the outermost perimeter of a field to set the work area and secure enough space to rotate. Thereafter, the machine can begin harvesting without additional input from the operator. In terms of speed, the machine can work at three levels: low, medium, and high. Daedong believes that this product will improve work efficiency while minimizing farmer fatigue. Moreover, even novice farmers are expected to produce results at a similar level to those of expert farmers who are more skilled in operating agricultural machinery.

Its yield monitoring function is also a huge plus. Meanwhile, DH6135-A customers can remotely control their combines using Daedong's agricultural solution platform, the "Daedong Connect" app. They can divide their fields into units of 4m, 8m, and 10m (horizontal x vertical), and view the grain yield for each plot in the app upon harvesting. This data can be used to optimize fertilizer and pesticide spraying in accordance with the crop's condition. Going one step further, soil quality data and growth monitoring can help with precision agriculture, which allows farmers to maximize harvest with the minimum investment of resources.

The combine's harvesting functions (harvesting, threshing, sorting, storing, and discharging) have also received some significant upgrades. A new driver's seat design reduced noise and vibration (while driving) by roughly 43% and 5%, respectively, compared to the company's previous 6-lane model, and the visibility out the front and right-hand-side of the vehicle has been increased by 6% and 75%, respectively, as well. The DH6135-A comes with a powerful engine producing 143 horsepower (PS), which allows the combine to work quietly and comfortably in softer rice paddies. Meanwhile, the 2HST speed function allows shifting gears without stopping. Sensors are used in the reaping unit (rice-cutter) in front of the combine, and automatic control over the height of the reaping unit depending on the curvature or slope of the paddy allows for more efficient and faster harvesting. Moreover, the new HST mowing drive, which is independent of the main motor, delivers excellent performance even on soft rice paddies or when working with fallen rice stalks.

The combine's storage and discharge functions have also been improved.Compared to the previous model, the grain tank capacity went up by 50L, and the time it takes for the combine to discharge grain was slashed by 25%. By adopting a camera on the auger that discharges the grain, operators can keep an eye on the grain being discharged using a 10-inch LCD touchscreen. Operators can operate the auger using a smart key to discharge grain as well.