News
Daedong Expands the Use of 'Connect Service,' Tracker Remote Controlling & Management
'Smart Farming with 'Connect,' Tracker Remote Management'
Daedong Expands the Use of 'Connect Service,' Tracker Remote Controlling & Management
Large tractors were first adopted last year, mid-size tractors will adopt later this year

Connect app for ▲vehicle monitoring ▲vehicle maintenance ▲use history ▲safe area/time ▲SOS

Boost performance and prolong life by managing tractor easily & enhance the service as a Smart Farming platform
Daedong (CEO Joon-Sik Kim, Yu-Hyun Won), a leader in future agriculture, announced on the 7th that it will expand the telematics-based 'Daedong Connect,' a remote tractor management service on mobile devices, to small and medium-sized tractors and skid loaders.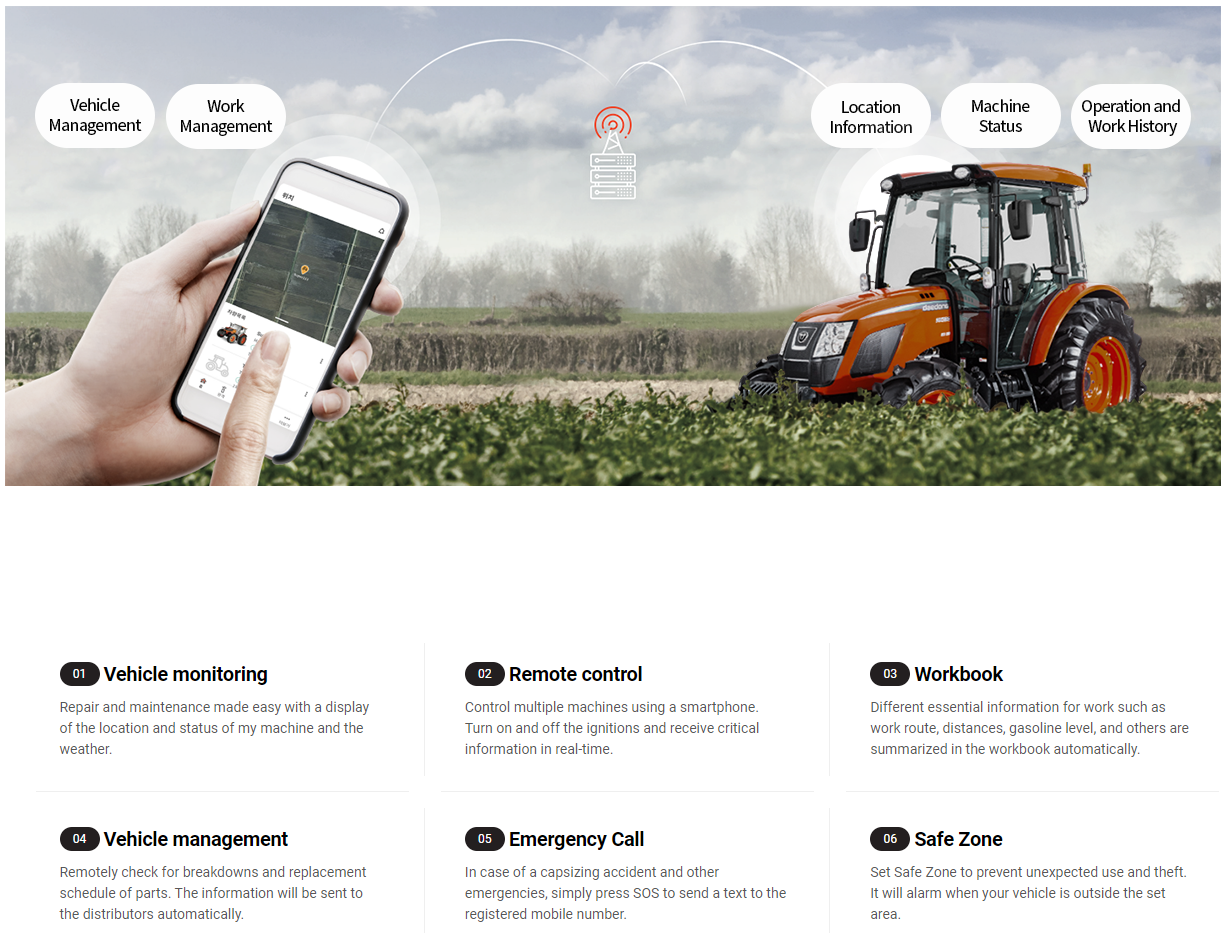 First introduced last year to large tractors with more than 120 horsepower, including PX1300, HX1300, and HX1400, the 'Connect' will also be used for medium-sized tractors with 59 to 127 horsepower, including FX, RX, and HX Prime series by the end of this year. There are five functions as follows, ①Vehicle Control (home function) ②Vehicle Maintenance ③History ④Safe Area & Time ⑤SOS, and they are available through a mobile app.
①Vehicle Monitoring (home function) enables the users to check the location and overall condition of the vehicle. ②Vehicle Maintenance shows the detailed usage of 12 consumables, cooling water, and error status, which information allows users to call the customer center for repair on the app. It is possible to prevent possible breakdowns, save time from repair during busy seasons, maximize performance and prolong lifespan through regular maintenance such as replacing parts.
③History records the daily work performed by the tractor, including the daily work hours, travel distance, fuel consumption, and what functions are used for what kind of work. Based on this history, the users can plan ahead and efficiently work during the busy seasons. ④Safe Area & Time sends notifications to the owners when the tractor leaves the designed area or operates during the non-working time set by owners, thereby preventing theft. ⑤SOS is a function that sends texts to a designed emergency contact, enabling prompt rescue in case of accidents.
More details about 'Connect' can be found on Daedong's official YouTube channel. Customers who purchased the service this year can go to Play Store (Android) or App Store (IOS) to download 'Daedong Connect' and sign up on their mobile phones. In the longer term, Daedong plans to introduce a 'Connect' service to mobility products such as e-bikes as well as small and medium-size tractors with 20-60 horsepower.
Furthermore, Daedong aims to expand its 'Connect' service beyond managing agriculture machines remotely and integrate the following services into the Smart Farming Platform: ▲consultation and construction of the cultivation environment for greenhouses and open field ▲growth recipes and weather information for every crop ▲remote control and operation of agricultural machinery ▲recommendation and supply of agricultural machinery ▲harvest and distribution during all phases of farming.