News
Daedong Tractor Ranked No.1 in the Korea Quality Satisfaction Index for Two Consecutive Years
Daedong Tractor Ranked No.1 in the Korea Quality Satisfaction Index for Two Consecutive Years
Started in 2004, KSA evaluates quality and satisfaction among consumers and experts

Daedong ranked first by Quality Satisfaction Index in 2021-22 for its quality excellence

'Smart factory' enhanced quality, and 'Connect' service improved performance through pre-inspection this year
Daedong (CEO Joon-Sik Kim, Yu-Hyun Won), a leading company in future agriculture, announced on the 24th that it was ranked first in the tractor category of the '2022 Korea Quality Satisfaction Index' organized by KSA for two consecutive years.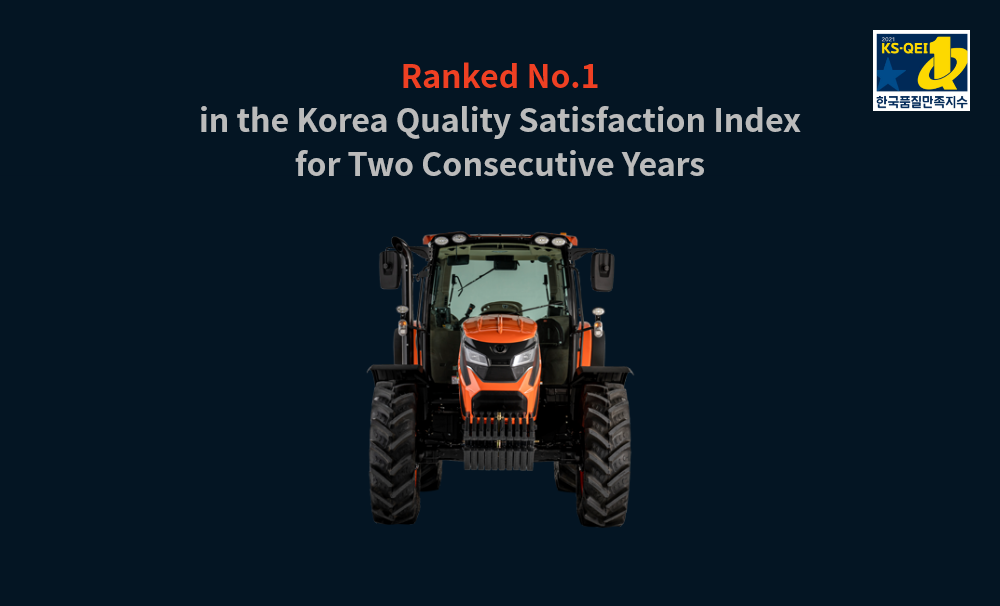 The Korea Quality Satisfaction Index is an evaluation model for quality, developed together with KSA in 2004, that measures quality excellence and satisfaction by consumers and experts who have an actual user experience. This year, a total of 108 products and 357 companies were evaluated by consumers and experts with a real user experience based on two categories: 'user experience,' which examines performance, reliability, durability, usability, safety, and accessibility, and 'affective quality,' which considers brand image, cognition and novelty. Daedong got the highest score in the tractor category and ranked first for two consecutive years.
Since introducing tractors in the domestic market in 1968, Daedong has satisfied its customers through the unparalleled quality of products and services. To do so, Daedong pushed a 'smart factory' to factories in Daegu earlier this year and has been monitoring real-time production, and making sure workers perform a thorough inspection of the final product before shipment. Moreover, starting in 2020, Daedong promoted the 'smartization of agricultural machinery' by expanding the use of a remote management service, named 'Connect,' to mid-sized tractors this year from large-sized tractors. Therefore, customers prevent possible breakdowns through pre-inspection; thus they can save time, boost performance, and prolong the lifespan through regular maintenance like replacing parts.