News
In the third quarter, Daedong achieved sales of KRW 1.136.7 trillion, close to sales in '21
Year-on-year sales and operating profit increased by 27.3% and 40.6%, respectively
In the third quarter, Daedong achieved sales of KRW 1.136.7 trillion, close to sales in '21
- Cumulative sales exceeds KRW1 trillion in Q3 for the first time since foundation, laying the groundwork for a new quantum jump with sales of KRW 1 trillion for two consecutive years
- Growth continues in the first half of the year despite economic uncertainty. Domestic sales and overseas sales increased by 6.9% and 40.5% respectively, from the same period last year
- Enhanced management efficiency, maximized parts sales, and expansion of OEM business are seen as the result of mid-to long-term strategies.
The leading company in future agriculture, Daedong (CEO Joon-Sik Kim and Yu-Hyun Won), announced on the 15th that cumulative sales and operating profit has increased by 27.3% and 40.6%, reaching KRW 1.136.7 trillion and KRW 80.7 billion, respectively. It has achieved KRW 1 trillion cumulative sales in Q3 for the first time since its establishment.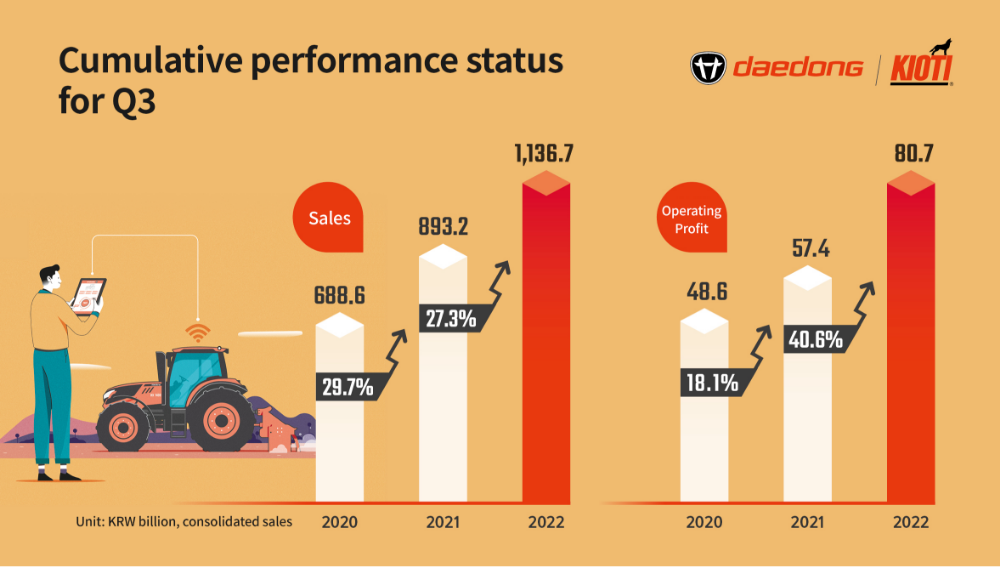 Based on consolidated sales last year, Daedong has achieved sales of sales of KRW 1.179.2 trillion and operating profit of KRW 38.2 billion, opening the doors for the '1 trillion club' for the first time since its establishment. Only in 2022 Q3, it has made an accomplishment close to the annual sales of 2021 and achieved KRW 1 trillion in sales for 2 consecutive years, laying the foundation for a new quantum jump.
Based on consolidated sales last year, Daedong's market consensus is KRW 1.307 trillion and KRW 62.6 billion of operating profit. In Q3 alone, operating profit had already exceeded by KRW 18.1 billion. Individually, Q3 cumulative sales reached KRW 734.2 billion and operating profit reached KRW 50.6 billion, increasing by 12.1% and 31.4% from the previous year, showing the steady external and qualitative growth of the group's parent company.
In this regard, the cumulative consolidated domestic sales in Q3 increased by 6.9% compared to the previous year with strong business foundation including product power, service capabilities, sales network, and brand power even amidst the decline of domestic agricultural population and agricultural land. Total overseas sales in Q3 also increased by 40.5%, as cumulative consolidated sales increased, by 37.2% in North America, 9.8% in Europe, and 49.3% in other countries such as Oceania and Mexico.
Daedong sees this as the success of mid-to long-term business strategies such as improving organizational structure and management efficiency through DT; increasing product prices and strengthening lineup based on marketability and brand power; reducing raw material costs through supply chain diversification and exchange rate linkage; maximizing sales of parts & services through 'Connect,' a remote control for agricultural machinery; expansion of global OEM business for agricultural machinery, industrial equipment and diesel engines, and intends to intensify these strategies.