News
Daedong Mobility completes construction of smart production facility, 'S-Factory'
'Building the foundation for a smart mobility enterprise that creates freedom of mobility'
Daedong Mobility completes construction of smart production facility, 'S-Factory'
- The construction which began in November 2021 was completed last month with a project cost of KRW 90 billion for production capacity of up to 145,000 mobility vehicles per year
- Maximizing production efficiency and manufacturing quality through smart factory facilities such as comprehensive control rooms, unmanned transport robots, and smart electric tools
- Priority operation of 2 lines, mass production of golf carts and sub-compact tractors in 2022, and E-scooters and robot chairs in 2023
- E-scooter and robot chair demo project is on the way for next year, aiming for mass production in the second half. Development of high-end golf carts is on the way as well
Daedong Mobility (CEO Yu-Hyun Won), a smart mobility subsidiary of Daedong Group, announced on the 23rd that it has completed the construction of 'S-Factory' at the Daegu National Industrial Complex site (Guji-myeon, Dalseong-gun, Daegu). S-Factory is capable of producing up to 145,000 smart mobility vehicles per year.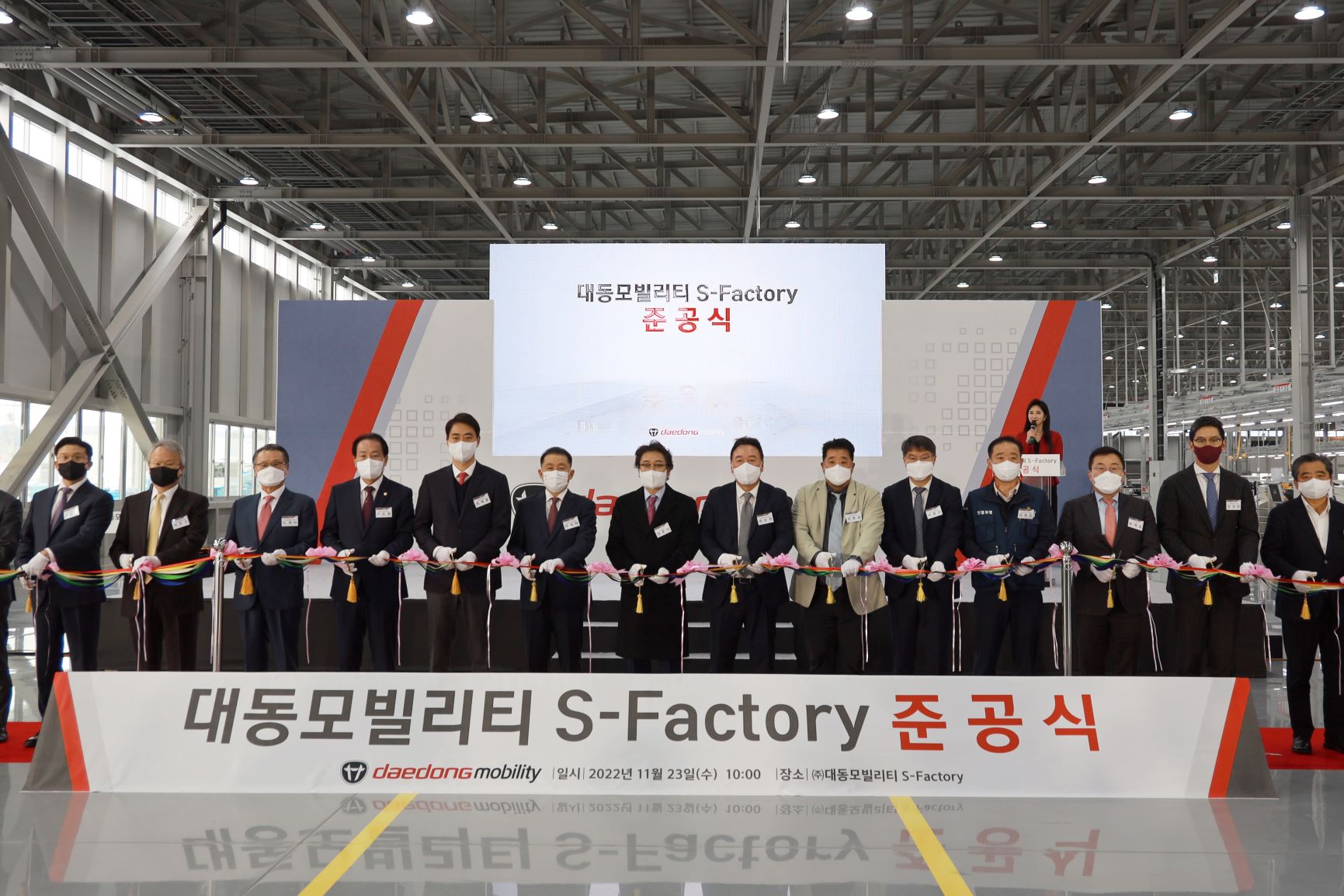 Daedong Group announced its entry into the smart mobility market in 2021 and began construction of a new mobility plant in November last year to expand its business with Daedong Mobility as the main focus, and completed the S-Factory in November after a year of construction with a project cost of approximately KRW 90 billion. The S-Factory has a land area of 102,265 square meters and a total floor area of about 30,000 square meters.
S-Factory has the highest level of production environment and technology in Korea based on the core competencies of the group, such as excellent product design, strong manufacturing capabilities, and multiple small-batch production capabilities. ERP (Enterprise Resource Management System), MES (Manufacturing Execution System), and supply chain management optimized for Daedong Mobility have been introduced to enable flexible production system for a futuristic smart factory system. The goal is to establish a comprehensive control room to monitor the entire production process in real time, and to collect and analyze all the big data generated in order to introduce measures to maximize production efficiency and manufacturing quality.
In terms of production efficiency, an electric unmanned transport robot (AGV: automated guided vehicle) was adopted to enable flexible measures according to production volume. Unlike the fixed production line with conveyor belt method, with unmanned transport robots, production lines can be operated in various ways, allowing quick shifts of production models and increase of production capacity depending on the demand volume. Next year, Daedong Mobility plans to increase the level of unmanned and automated production systems and maximize production efficiency by gradually switching from forklifts and carts to transport robots.
In terms of manufacturing quality, smart electric tools were introduced to enhance production quality. With smart electric tools, the workers receive work method and quality control information through kiosks and monitors. For each major process, basic assembly values (ex. Torque fastening values) are automatically set. To proceed to the next step, assembly must be complete in accordance with the values. Here, a driving test center was set up in to perform basic driving tests on all production to check and maintain not only driving performance but also all abnormal signals generated during product operation to allow supplying high-quality products to the customers. In addition, it was designed to be equipped with as many air vents as possible for its air-conditioning system to provide a better environment for workers.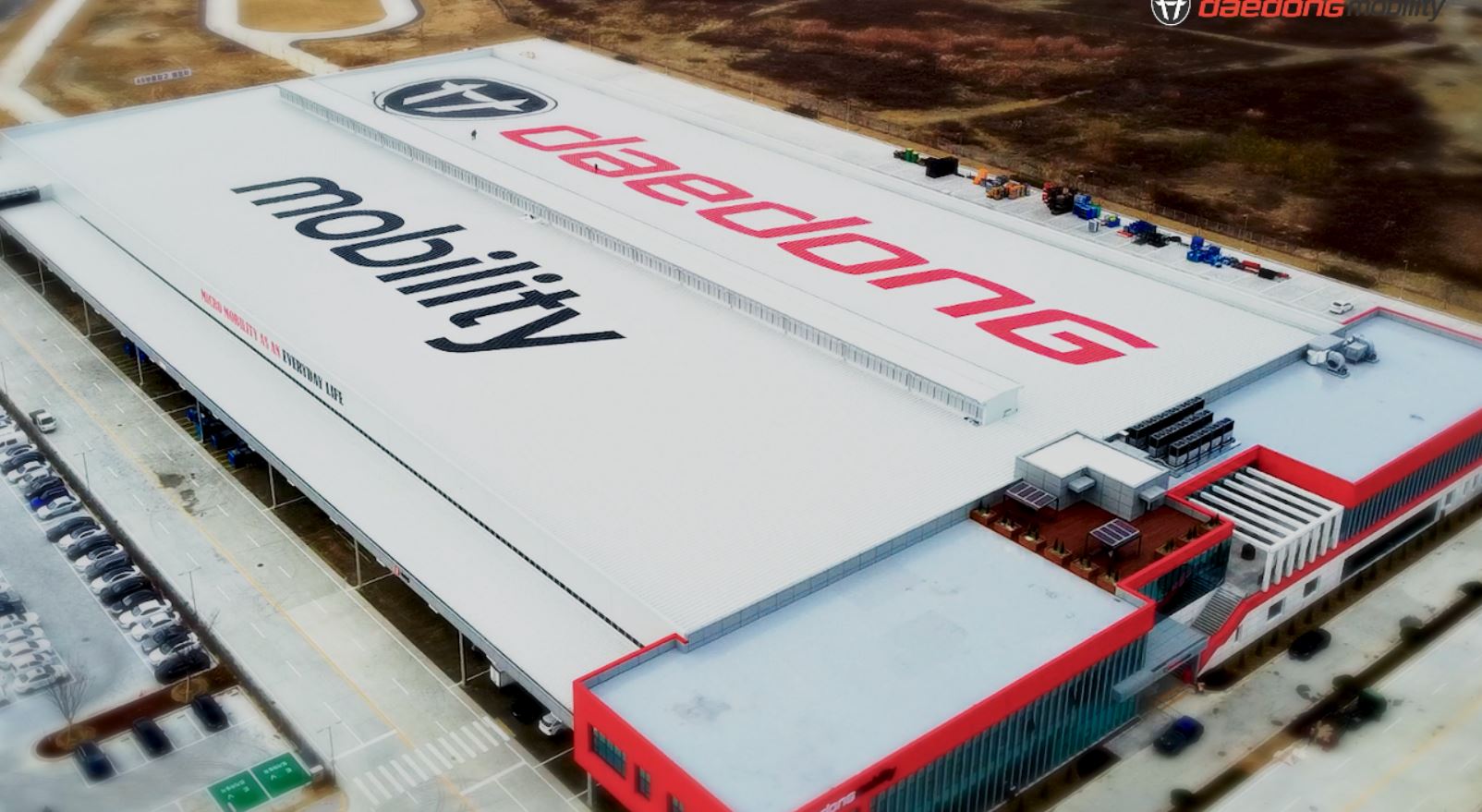 S-Factory will first operate two lines: an E-scooter line with a production capacity of 35,000 units per year, and a mixed-production line of golf carts, subcompact tractors, passenger lawnmowers, and electric trucks, capable of producing up to 20,000 units of products per year. It plans to add 3 more lines by 2026 for the production of 0.5-ton electric trucks, smart robot chairs, etc. and to reach a mobility production capacity of up to 145,000 vehicles per year.
Until next year, a mass production system for golf carts, sub-compact tractors, e-scooters, and smart robot chairs will be established in order to accelerate market invasion. Starting this year, existing business items such as golf carts and sub-compact tractors will be produced in the S-Factory, in order to increase supply volume to domestic and international markets. The double golf cart business is to be further expanded as the high-end HG-200 (5-seater) model introduced in the second half of this year is scheduled to be developed and launched next year.
In the first half of next year, demonstration projects for e-scooters and smart robot chairs will be conducted in the metropolitan area and Daegu region. Customer evaluation for these projects will be used to raise product value and to assess business strategy before beginning full-scale mass production in the second half of next year.
With the completion of the S-Factory, Daedong Mobility takes a big step to become a company specialized in mobility by establishing a full-scale production base as well as core competencies such as production planning and design, core technology development, production and quality control, sales network, and customer management and service. In October, an organizational restructuring was carried out to revitalize the mobility business to make a shift in the organizational system and to establish a mid-to-long-term business roadmap. In addition, it is currently collaborating with KAIST to spur the development of smart mobility technology such as automation, electrification, and smartization as well as development of products in order to launch products based on five basic driving platforms, including ① ultra-compact ② compact ③ medium-sized ④ large ⑤ e-scooter exclusive.
Joon-Sik Kim, Chairman of Daedong Group, said, "S-Factory is a part of our business expansion into the non-agricultural sector. As the Group aims to become a 100-year company in the 3 major future industries, S-Factory has greater significance than a springboard for quantum jumping into becoming a leading company in future agriculture," and added, "Daedong Mobility will become a mobility company that provides freedom of mobility and convenience for customers with smart mobility innovations that anyone can use."
Meanwhile, Daedong Mobility held a completion ceremony at S-Factory on November 23. The event began at 10 AM, and consisted of progress reports, a welcome message (Chairman Joon-Sik Kim), commemorative speech (CEO Yu-Hyun Won), the delivery of appreciation plaque, and a factory tour and test run of products. A total of 140 people attended the event. 60 executives and employees of Daedong group, including Chairman Joon-Sik Kim and Daedong Mobility CEO Yu-Hyun Won, and 80 external guests including government agency officials, investors, and business and technology cooperation partners were present. As external guests, Minister of Economy of Daegu City Jong-hwa Lee, Governor of Dalseong-gun Jae-hoon Choi, Chairman of the Daegu Chamber of Commerce and Industry Jae-ha Lee, Director of KIRO Joon-gu Yeo, KT Vice President Jae-ho Song, CEO of Kakao Mobility Chang-min Lee, CEO of GS Global Young-hwan Lee, CEO of Dominus Investment Do-hyeon Jeong, CEO of Keystone PE Chang-bae Son, Managing Director of Hana Securities Young-soo Choi attended the event.