News
Daedong Mobility to Supply AIMS with Electric Scooters & Battery Stations
"With the First Electric Scooter Supply Contract Signed, the Business Takes Off"

Daedong Mobility to Supply AIMS with Electric Scooters & Battery Stations
- Daedong Mobility to supply AIMS with 92% localized electric scooter GS100, developed with proprietary technology for delivery riders
- Supplying 300 GS100 units and 50 battery stations in the first half of the year; AIMS to install and sell in Seoul, Daegu, and Busan
- Strengthening B2B sales with delivery platforms and franchises; building a nationwide service network in the second half of the year and pursuing B2C sales
Daedong Mobility is set to begin selling its first last-mile mobility product, the BSS-type electric scooter.
Daedong Mobility, a smart mobility subsidiary of Daedong Group (CEO Yu-Hyun Won), announced on the 6th that it has signed a contract with AIMS (CEO Sung-hoon Choi), a battery charging service specialist company, to supply GS100 electric scooters and battery stations.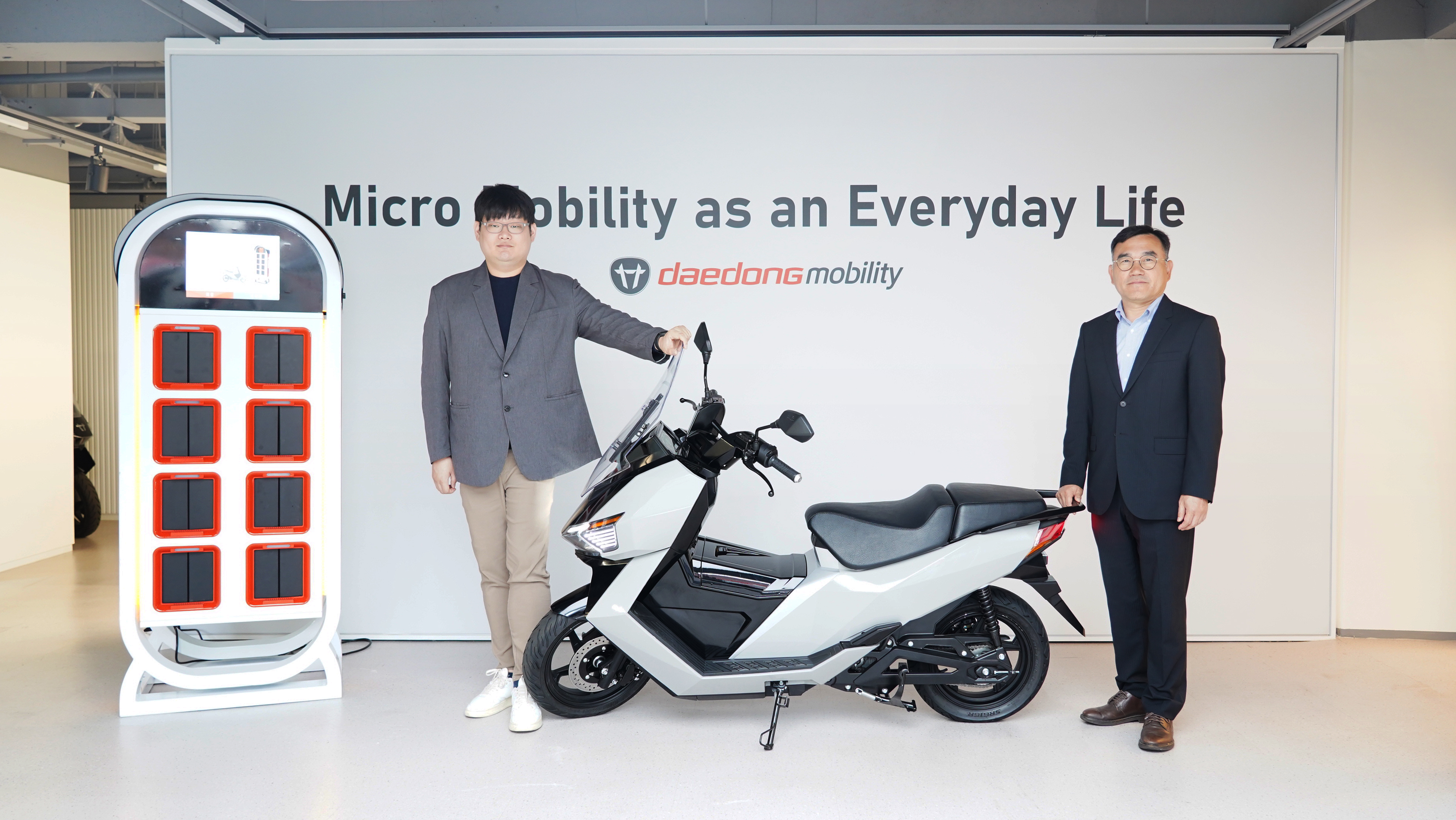 As the core company of the group's mobility business, Daedong Mobility is currently pursuing mobility projects in three major product categories: last-mile mobility (electric scooters and 0.5-ton electric trucks), leisure & personal mobility (golf carts and robot chairs), and gardening mobility (riding lawn mowers and sub-compact tractors). Among these, the electric scooter GS100 is a product with a localization rate of 92%, developed exclusively by Daedong Mobility in just over a year, targeting the delivery rider market.
Specifically, the GS100 features a Battery Swapping System (BSS) which enables replacement with charged batteries at stations, eliminating the waiting time between charges. With a single charge, it can travel up to 70 km (when traveling at the constant speed of 60 km/h) and has a maximum speed of 90 km per hour. Features such as phone holder, height-adjustable windscreen, helmet storage space, front and rear black boxes, and smart key maximize convenience and safety for riders. In addition to the core components such as the motor, powertrain, and battery, it also boasts high manufacturing quality by using domestic parts for general components.
Daedong Mobility will supply 300 GS100 electric scooters and 50 battery stations for sale to individuals and delivery platform operators, which AIMS will install in Seoul, Daegu, and Busan during the first half of this year. Starting with this supply contract, Daedong Mobility plans to continuously strengthen B2B sales promotion targeting delivery platforms, franchise companies, government agencies, and local governments. From the second half of this year, when the nationwide service network is established, it will also pursue B2C sales. The production of the products will take place at the S-Factory, a future-oriented smart factory that Daedong Mobility completed last year on the site of the Daegu National Industrial Complex (Guji-myeon, Dalseong-gun, Daegu). As of 2023, this factory can produce up to 35,000 electric scooters annually.