News
Daedong Gear Holds Commemorative Event for its 50th Anniversary
Daedong Gear Holds Commemorative Event for its 50th Anniversary
- Established in 1973, Daedong Gear began its journey in the 1970s as a provider of agricultural machinery parts and transmissions, and expanded into the automotive transmission industry in the 1990s.
- It achieved continued growth with internal combustion powertrains and is now gearing up to enter the electric powertrain market, aiming for new avenues of growth in the era of electric vehicles.
- It is quickly establishing its competitive edge in the industry by integrating powertrain technology into the group's mobility business.
Daedong Gear, the powertrain[i] specialist of Daedong Group, announced on June 1 that it has declared a leap forward as a global leader in internal combustion and electric powertrains, commemorating its 50th anniversary.
Daedong Gear (KOSDAQ: 008830) is the first Korean manufacturer of powertrain systems for agricultural machinery. Established in 1973 as Daedong Agricultural Machinery Gear Co., the company initially focused on supplying agricultural machinery parts and transmissions to domestic agricultural companies, including Daedong. In order to diversify its business, the company changed its name to Daedong Gear Co., Ltd. in 1983 and began full-scale production and supply of transmission gears and reducers for automobiles and industrial machinery in the 1990s.
Currently, Daedong Gear develops and manufactures various power transmission components in house, such as transmissions, driveshafts, reducers, axles, and gears, which are crucial components for agricultural machinery, industrial equipment, and vehicles equipped with internal combustion engines such as gasoline and diesel engines. These products are supplied to diverse customers including Daedong, Hyundai-Kia Motor Group, GM Korea, Hyundai Construction Equipment, Hyundai Doosan Infracore, and Motrol. With a solid foundation of manufacturing experience, the company has achieved double-digit sales growth rates in the past three years, thanks to its product quality and production capabilities. In 2022, the company recorded sales of KRW 242.1 billion, showing a growth of 19.3% compared to the previous year. In the first quarter of 2023, it achieved sales of KRW 78.3 billion, a growth of approximately 36% compared to the same period last year.
Daedong Gear has been steadily growing as a provider of power transmission components for internal combustion engine vehicles and machinery. However, with the global shift towards eco-friendly and low-carbon initiatives, including the rise of electric vehicles and electric mobility, the company aims to adapt and secure new avenues of growth. To achieve this, Daedong Gear aspires to become a global player in both internal combustion engines and electric powertrains. Additionally, the company recognizes the potential for rapid business competitiveness in the smart mobility sector within the group. Through the internal development, production and supply of key power transmission components required for smart mobility, such as electric scooters, half-ton electric trucks, and agricultural/non-agricultural robots, Daedong Gear anticipates securing a strong foothold in this rapidly evolving market.
Jae-eok Noh, the CEO of Daedong Gear, expressed his vision during the founding ceremony: "To achieve sustainable growth, we will secure global competitiveness through quality and production innovation in powertrains for agricultural machinery, automobiles, and industrial machinery. We will expand our business into core component production for electric mobility, becoming a global leader in both internal combustion and electric powertrains. By internalizing future technologies related to electric vehicle modules and electric powertrains, including electric motors, reducers, and inverters, we aim to lay the foundation for a century-long history."
The commemorative event for the company's founding took place on May 29 at the Daedong Gear headquarters in Sacheon, Gyeongnam, with the participation of approximately 300 individuals including its employees and partners. CEO Jae-eok Noh announced the company's long-term vision and business plans during the event, followed by the recognition of eight outstanding employees and a cake-cutting ceremony.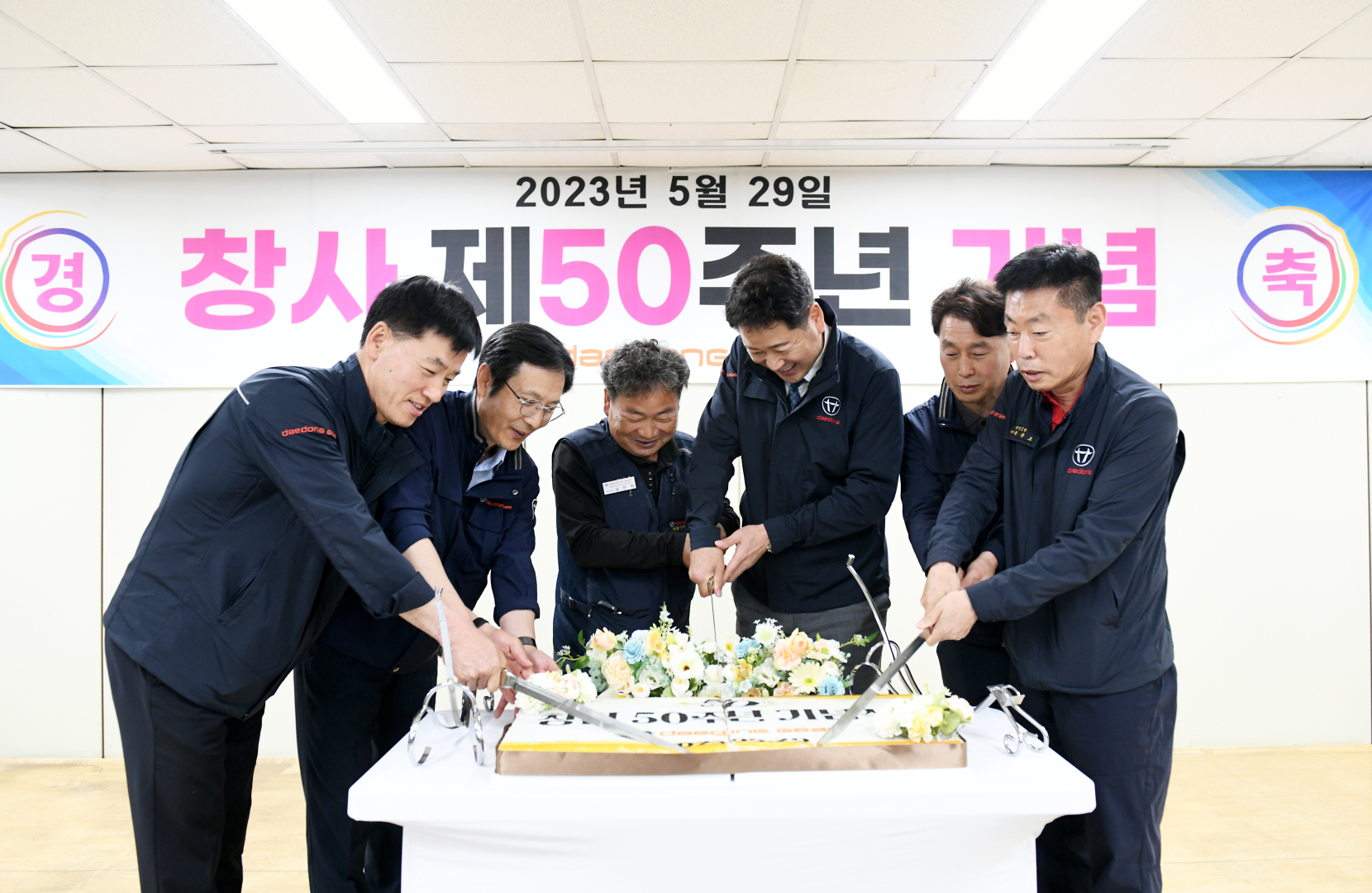 [i] Powertrain
Powertrain refers to the collective term for the components that transfer power in various vehicles and equipment, including agricultural machinery, industrial equipment and automobiles. It typically encompasses the parts responsible for power transmission, such as transmission, axle, driveshaft, and reducer. While it commonly excludes the engine, it can also include all devices that generate the driving force, including the engine itself.