News
Daedong posts record-high sales at KRW 835.8 billion in the first half of the year
"Overseas sales up by 18.8% in the first half of the year thanks to product and market diversification"

Daedong posts record-high sales at KRW 835.8 billion in the first half of the year


-. As of the first half of 2023. Exports of medium to large tractors grow by 62%. Added focus on Europe and Australia push sales up by 54% and 74%, respectively

-. Stronger push in the European market, reorganizing local subsidiaries and focusing on Germany, which has a direct sales system, to target German-speaking countries

-. Future business includes developing unmanned agricultural machinery and agricultural robots, pioneering and establishing an early presence in the domestic market for golf carts and e-scooters.


Future agriculture platform company Daedong (Co-CEOs Kim Jun-Sik, Won Yu-Hyun) announced on August 15 that exports in the first half of 2023 increased by 18.8% compared to the previous year, reaching approximately KRW 835.8 billion, the highest first-half sales ever on a consolidated basis.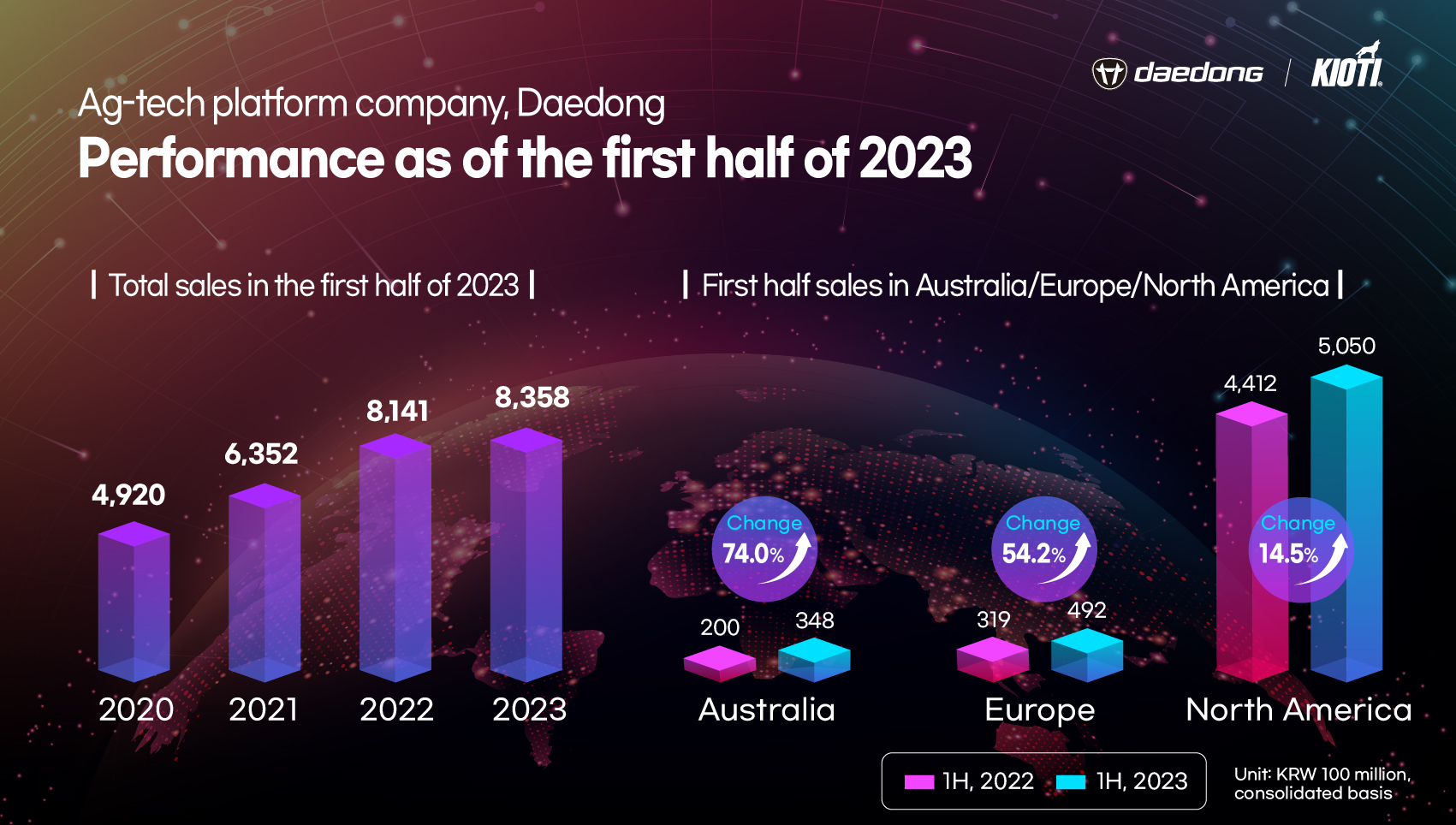 For the first time in company history, Daedong sold more than 20,000 in the first half of the year. It sold 22,900 tractors overseas, a 24.5% increase over the previous year, by diversifying its product and market portfolio, and consolidated sales came in at KRW 835.8 billion, a 2.6% increase from last year. Consolidated operating profit, however, declined over the first six months of the year as Daedong sold 22% less agricultural machinery domestically compared to the previous year (based on government financing). Daedong generates most of its domestic revenue from medium to large tractors with higher price tags. Meanwhile, the company's future smart farm and mobility businesses, which required some substantial initial outlays, pushed the consolidated profit down KRW 63.3 billion, a slight drop from the previous year. On a separate basis, Daedong recorded KRW 643.9 billion in sales, up 22.8% from the previous year.

The company believes that its product and market diversification strategy focused more on developing the European and Australian markets in addition to North America, and going from mostly small to medium tractors (less than 60 horsepower) to medium to large tractors (61-140 horsepower), has been effective, resulting in sustained growth in overseas markets. In terms of products, Daedong has made significant progress with added marketing efforts overseas for medium to large tractors. In particular, the HX, a premium large tractor in the 90-140 horsepower range, which launched overseas in the second half of last year, has been a success as a flagship model. Thus, as of the first half of the year, exports of medium to large tractors increased by 62% compared to the previous year (by volume), and these medium to large tractors have gone from 5% to 7% of all exports made by Daedong. The company plans on strengthening its lineup of medium to large tractors and launching a new premium mid-sized (61-80 horsepower) tractor overseas in the first quarter of 2024.

Daedong also achieved double-digit sales growth across major overseas markets due in large part to its diversification and customized strategies. In the North American market, where the market size of tractors under 100 horsepower decreased by about 12% in the first half of the year compared to the same period last year, the company secured 8.9%, its largest-ever market share, with aggressive promotional offers, which pushed sales up by about 14% compared to the previous year. In Europe and Australia, where the medium to large tractor market is larger, Daedong deployed a lineup of attachments better suited for medium to large tractors in order to focus more on growing the company's presence in local markets. This, ultimately, led to a rapid rise in sales - approximately 54% and 74%, respectively - compared to the previous year with more aggressive sales and marketing efforts. As such, Daedong continues to diversify and custom-build its strategies overseas to expand its sales of medium to large tractors.


In Europe, the company is making aggressive investments, focusing on Germany, which has a direct sales system, and plans to expand its sales volume by selling 3,000 tractors in Europe this year and more than 10,000 within the next five years. To that end, Daedong appointed a market expert as the head of the local subsidiary to reorganize the company's European subsidiary. The company also plans to establish a base in German-speaking countries and big market countries, secure market share for medium to large tractors, and research the European market for mobility and agricultural robots.


Meanwhile, in North America, as part of its strategy to expand medium to large tractor sales, Daedong is looking to increase its local supply chain capacity for products and parts by expanding the North American assembly line and possibly expanding/relocating the warehouse currently used by its Canadian subsidiary. Daedong believes that if the annual assembly capacity of its tractor attachments and optional accessories in North America expands from 2,000 to 10,000 units, sales will increase as various assembly service programs can be made available at its North American dealers.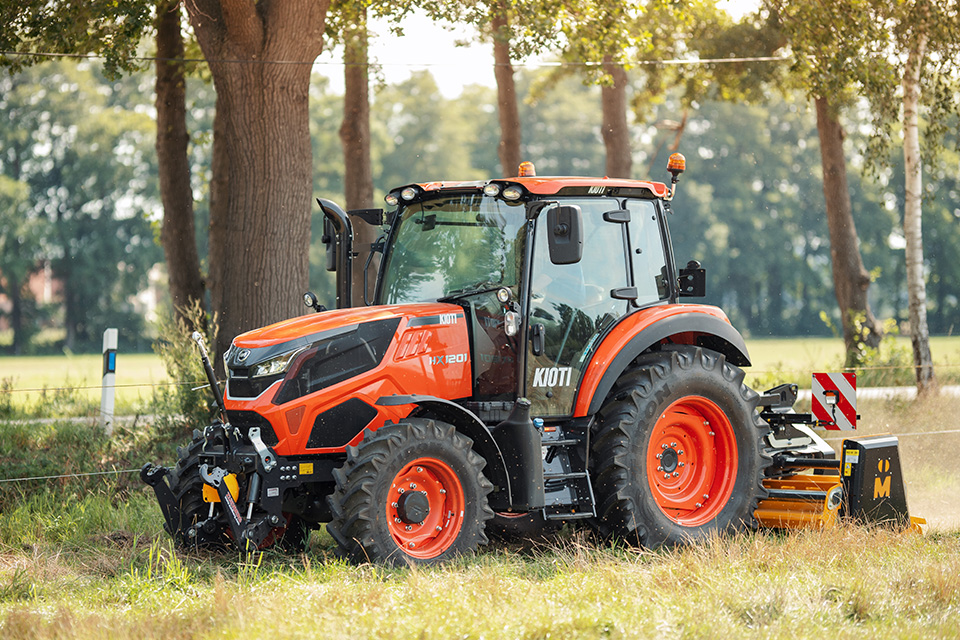 Daedong also remains committed to investing in its future businesses. For its smart agricultural machinery business, the company plans to establish a roadmap for developing level-4 unmanned agricultural machinery while launching a level-3 autonomous driving tractor/combine in the third quarter of this year. For its smart mobility business, Daedong further strengthened its production/quality/service competitiveness through the S-Factory (located in Guji-myeon, Daegu), which was completed at the end of last year. Golf cart sales volume in the first half of 2023 alone doubled that of the entire year last year. The company's e-scooter business is in its first year this year, and Daedong is upping its supply to increase its share of the market up to 10%. Moreover, the Daedong-KIRO Robotics Center, opened in the first half of this year, is developing agricultural/non-agricultural robots, and plans to introduce a "following robot" for autonomous transportation of agricultural products within the year.