News
Daedong hosts 10th Family Day for Outstanding Dealers in North America
"KIOTI dealers in North America assemble in Korea!"

Daedong hosts 10th Family Day for Outstanding Dealers in North America

-. Daedong invited 45 leading dealers in North America to strengthen their partnerships and maximize dealership loyalty to a Family Day event from September 12 to 19

-. Daedong took its North American dealers on a tour of Daedong and Daedong Mobility production plants, announced its mid- to long-term product lineup, and gave a preview of new offerings

-. Daedong ranked 3rd in the North American sub-100hp tractor market with a market share in the upper 8% range as of the first half of 2023
On September 21, Daedong Group's ag-tech platform subsidiary Daedong (Co-CEOs Kim Jun-sik and Won Yu-hyun) announced that it had invited 45 of its best dealers in North America to Korea to host its 10th Family Day program from September 12 (Tue) to September 19 (Tue), 2023 (total eight days).1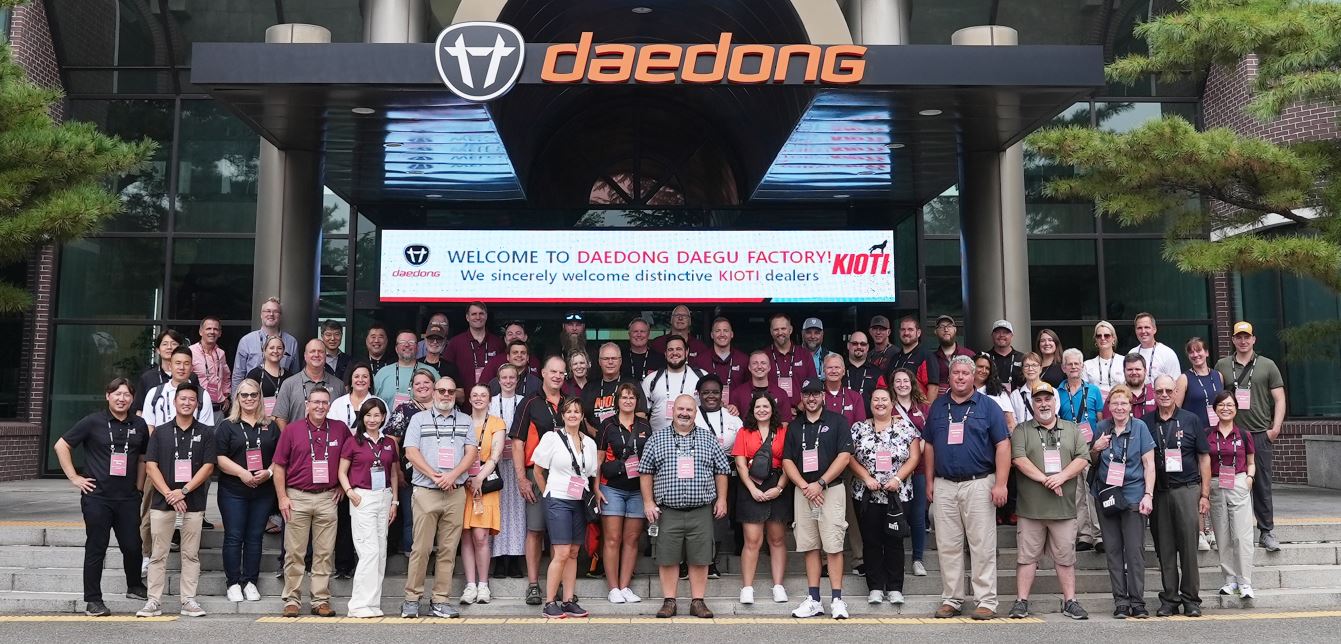 The Family Day event has gotten underway every other year since 2003, led by Daedong-USA, Daedong's North American subsidiary. Although the program, the 10th so far, was put on hold due to ongoing concerns stemming from COVID-19, it resumed as the pandemic gradually turned into an endemic. Overall, the program is designed to strengthen the collaborative relationship between dealers, and to promote pride and loyalty by demonstrating the competitiveness of KIOTI, Daedong's agricultural machinery brand for the global market. This year, out of more than 520 Kaioti dealers across North America, 45 dealers who excelled in sales over the first half of the year as well as dealers eligible for intensive training were invited to the event, along with a handful of executives and staff from Daedong-USA.
As part of the program, on September 13, the delegation toured Daedong's Nongong plant and Daedong Mobility's S-Factory in Guji (both located in Daegu), then attended a welcome dinner banquet. At the two factories, the group inspected the entire production process from product assembly to stability and quality inspections, and shipment, along with a presentation of how the production and quality control system works at a cutting-edge smart factory. The delegation also sat for a presentation on Daedong Group, its mid- to long-term product lineup plan, and an evaluation/demonstration session of major products, including agricultural machinery, construction equipment, and mobility solutions. At the banquet that evening, Daedong's key executives and employees joined the event to welcome the dealers from North America, and Daedong-USA CEO Kim Dong-gyun personally presented plaques of appreciation to the dealers. Thereafter, the delegation visited major tourist attractions in Seoul and Jeju-do Island to learn more about Korean culture and history.
Eric Howard Schnelle, a dealer from Missouri, who participated in this event, said, "KIOTI is a better partner than all of the other agricultural machinery brands in the US because it really listens to the voices of dealers and customers, and works hard to apply what they've learned on their products and services. That's why we trust them as a partner." He added, "Looking at the smart factory production system at both factories, I'm convinced that this is indeed a company that can produce and supply any product that us KIOTI dealers in North America request at the right time."
Kim Dong-gyun, CEO of Daedong-USA, said, "Despite the worldwide recession, we were able to improve our standing in the North American market, which we now stand in 3rd place, and also expand our product lineup by treating our dealers as family and always looking for ways to grow together. We've really created a robust sales network with some very loyal and capable dealers." Kim continued, "We'll continue to build trust and pride in our KIOTI brand among dealers, and strengthen our partnerships for further growth going forward."
Meanwhile, Daedong launched its global export brand KIOTI in the US back in 1985, and established Daedong USA, its North American subsidiary, in 1993. The company now has more than 520 dealers across the US, and is increasing its presence in primarily the sub-100hp tractor market. Daedong was able to secure the no. 3 spot in the sub-100hp tractor market due in large part to its strategy targeting the sub-60hp tractor market, which has grown markedly with the rise of "hobby farms" during the pandemic. Daedong is now considered a tier-1 brand in the US tractor market.